A Fashion Feast in New York City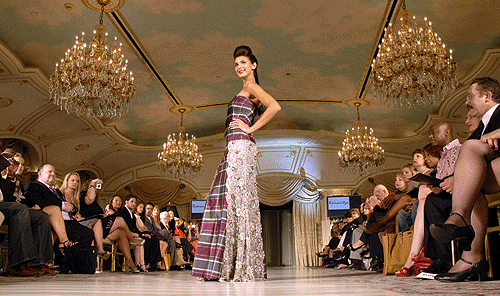 In September 2007 Couture Fashion Week New York exceeded all expectations and delivered the largest and most distinguished audience of socialites, diplomats and VIPs during New York Fashion Week at a single event. Also attending were press and media from around the globe including Book Moda (Italy), CBS, Fashion TV, PBS, and television coverage from Turkey, Costa Rica, China, Russia as well as photographers, editors and writers from a full range of fashion and lifestyle publications. An Andres Aquino production, the three-day event featured beautiful runway fashion shows, world class entertainment, cocktail and networking parties creating a one-of-a-kind opportunity for participating exhibitors, designers and sponsors.
From the electrifying performances by award-winning violinist Alexander Markov and the Masacote Dance Company to the intricate garments by international fashion designers hailing from all corners of the globe, the shows were a feast for the senses. The venues this season were the Westin in New York's world-famous Times Square and the exquisite St. Regis Hotel. At the Westin, the stunning atrium soaring seven stories was transformed into a glamorous catwalk and filled to capacity with appreciative guests enjoying the shows from the main floor as well as from the balconies overlooking the runway. The fashion shows at the St. Regis were held in the breathtaking Roof Ballroom with cocktails and exhibits in the Versailles Ballroom accompanied by the performance of accomplished guitarist Kenny Cunningham. Sponsors and exhibitors included Cunard, Trump, Susan Winston Diamonds, Bluefish Concierge, Palm Beach Real Estate, Soho Sanctuary and La Amada Residences Cancun.
The economic impact of Couture Fashion Week is significant as the event attracts designers and affluent guests to New York from as far away as Australia and Indonesia.
One of the hallmarks of Couture Fashion Week is the ethnic and racial diversity of the fashion models reflecting the melting pot of the city of New York and this season was no exception. The models represented a range of fresh faces and seasoned models, natives of many countries including Russia, Curacao, Mongolia, Albania, Colombia, the USA and many others. The hair and makeup styling was done by acclaimed stylist Federico Calce, who operates his own exclusive salon on Manhattan's upper East Side; and Crystal Glass, Inc., and their respective teams. Again this season, as in the past, the event was assisted by the efforts of enthusiastic student volunteers from the Fashion Merchandising Program at Westchester Community College and the New England Fashion & Design Association.
The fashion collections were as creative and versatile as the variety of designers and the countries from which they hail.
The models in the Maria Pryor (Argentina) show were barefoot strolling on a sort of mystical journey garbed in intricate gowns of delicate lines and soft silhouettes.
Award-winning designer Romanitza (Romania) presented an exquisite collection of finely-crafted gowns reminiscent of a bygone era of aristocratic grandeur.
Tatyana Parfionova (Russia) showed hand-worked garments, elegant, artistic, futuristic and somewhat whimsical with embroidered elements and decorative details.
The collection by Rabia Yalcin (Turkey) seamlessly combined western and eastern elements accented with intricate embroidery and handmade accessories.
Katerina Bocci, a native of Albania now based in Michigan, showed a sumptuous collection of gowns, dresses and evening trousers in luxurious fabrics like imported laces and silks, designed with a European flair.
The focus of the feminine collection by Margaret Nagel (Canada) was handcrafted one-of-a-kind vintage gowns.
The latest collection by Kenneth Flanagan (USA) for his KAS label included top-quality fabrics and tailoring of creative designs for both men and women.
The Lourdes Libman (Dominican Republic/usa) collection was feminine, fresh and bright with a generous helping of her trademark handcrafted details and flourishes.
The event also featured ready-to-wear designers such as Maureene Dinar (Argentina), Cristina Nitopi (Australia) and Annia Hatch (native of Cuba, now based in Connecticut), as well as Los Angeles-based Jazmin Whitley for the Li Cari label whose show was filmed for the new reality program Catwalk, for broadcast on VH1 next season.
New York-based Andres Aquino created a shimmering line of cocktail and evening gowns entitled "Nocturne", specially designed to show off accessories. The show was accessorized by fabulous handbags by Lautrec (price range $8,000 to $20,000 each), crystal studded bags and shoes by Hautelatitude, jewelry by Glam NYC and diamonds from the famous collection of Susan Winston, which closed the show with a diamond and ruby necklace valued at over half a million dollars worn with a stunning red satin strapless gown. The music for this show was performed by incomparable violinist Alexander Markov, who thrilled guests with classical Paganini right through his rock version of the Star Spangled Banner.
The next Couture Fashion Week event will be held in New York in February 2008. Other upcoming events include a couture fashion show in December 2007 as part of the grand opening of the Desmond Tutu Center in New York City, and couture fashion shows in Palm Beach, among others. Details about upcoming shows, branding and sponsor opportunities and ticket information is available on line at CoutureFashionWeek.com.
Events are open to accredited members of the trade and press. Pre-registration online required at: http://www.usafashionshows.com/registration.htm
Learn more about Couture Fashion Week and USA International Fashion Shows.