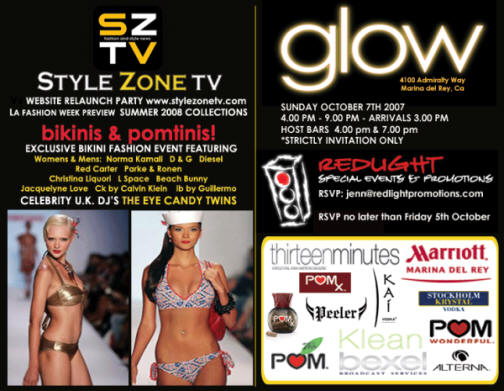 StylezoneTV announce Bikinis & Pomtinis! A pre-lA Fashion Week Summer 2008 party at the new GLOW Bar Lounge VIP Party Sunday Oct 7th
Summer isn't over yet! As StylezoneTV Productions announce the launch of their brand new Fashion & Style video streaming website during LA Fashion Week Summer 2008 with an e-commerce StyleShop for all fashionistas and fashion victims out there who can't get enough! In association with 13 Minutes Magazine, the first luxury Asian American bi-cultural magazine in the world featuring their October Music issue with Nicole Scherzinger of the Pussy Cat Dolls, and Aple.de.AP from the Black Eye Peas.
Come down to the Glow Bar Sunday afternoon October 7th for a Red Carpet VIP fashion event kicking off LA Fashion Week. Sip a Host Bar Pomtini cocktail (courtesy of Pom Wonderful and Pom Tea) Stockholm and Kai Vodka in the warm afternoon sun, while sampling the delights of KLEAN Bath & Beauty Spa treatments poolside. Enjoy watching an exclusive, invitation-only front row bikini photoshoot featuring celebrity photographers Ben Cope and David Lee with the Spring/summer 08 collections of Miami Beach's Celebrity Women and Mens designers. View luxury brand labels Red Carter, Parke & Ronen, Christina Liquori as well as Norma Kamal,. L Space, Beach Bunny, Jacquelyne Love, D & G, Ck by Calvin Klein, Diesel, ib by Guillermo. Kick your shoes off, and join in the fun at the outdoor Glow lounge dancing to the sultry sounds of U.K.'s celebrity DJ's Mark the Eye Candy Twins and take home a VIP goody bag stuffed full of sponsored gifts including the much coveted KLEAN Bath & Beauty Products and Alterna organic hair products and sober up later with POM X anti-oxidant tablets.
StylezoneTV Productions, Inc. have built a reputation over the last 10 years in the fashion industry for creating sharp and stylish documentary EPK's and TV news at NY, LA & Miami Fashion weeks as well as at red carpet private events at the Oscars, Golden Globes and Emmy's parties in Hollywood. Well known for their high-end and luxury brand clients such as Niche Media's LA Confidential, and Vogue Magazine's Fashion on Demand., they recently produced and directed Vogue's new Video Fashion on demand Podcasts for Old Navy and have covered flagship store openings across the World such as Blanc de Chine, NY, De Beers Diamonds, Bond Street Store, Miss Sixty and recently the grand opening of the sultry Vivienne Tam's new Soho Store opening in NY. Their client list reads like a who's who of what's luxury cool and if you are looking for a slick branding experience for your next project, trade show, special event, red carpet event, product launch or store opening
StylezoneTV are your one-stop fashion and style production hub!
With a focused emphasis on fashion, beauty and style clients, StylezoneTV's reputation has grown exponentially around the world. Producing and filming photoshoots for Zink Magazine with an exclusive 60 page, front and back pages issue for the 20- years celebration of Cirque du Soleil, they were just hired by Cannes Super Event Production Company Button Future Media Brands, to produce and edit their new brand identity for 2008 in Cannes for all the upcoming Cannes Film Festivals and super events to be held in Cannes 2008 and Dubai. StylezoneTV Productions are masters of the art of Media and Brand persuasion and plan to take on more fashionable luxury brand clients. Their recent success at the NY Independent Film Festival, made them a NY Times Critic's choice with documentary feature winner Peace, Love & Bikinis! and they are just getting ready for their new reality TV series 2008 Sink or Swim.
StylezoneTV are teaming up Jenn Laskey of RedLight Special Events & Promotions and with the newly fashionable Marriott Hotel group and their newly designed Glow Bar Lounge, showing how serious Marriott are about getting into the fashionable lounge bar game. Glow Bar Lounge sets a unique precedent for the Marriott. It's a one-of-a-kind outdoor lounge, similar in vibe to the rooftop bar at the Standard downtown but without the kitsch. Relax next to palm trees, waterfalls and dine under starry skies, while listening to down-tempo beats DJs filling the space with soothing ambient sounds, and breezy funk and you might just get a glimpse of celebrities recently spotted such as Jack Nicholson and Lindsay Lohan, who like all of us enjoy getting away from it all. The Marriott is expanding its boutique experience and we wish them and StylezoneTV the best of luck!