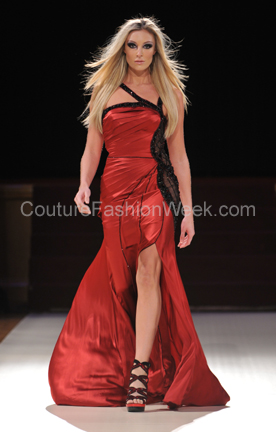 Walid Atallah, one of the Middle East's top fashion designers, will make his third appearance at Couture Fashion Week in New York City at 6:00 p.m. on Saturday, September 17, 2011. The much-anticipated fashion show will be held in the legendary Grand Ballroom of the world-famous Waldorf Astoria hotel.
A native of Beirut, Mr. Atallah earned a degree in fashion design from the University of Chicago. Soon after, he launched his design career in the fast-growing city of Dubai. His unique designs quickly found a loyal following among sophisticated fashion lovers. Mr. Atallah held his first fashion show in Dubai in 1996, which was enthusiastically received by the industry, and which included such special guests as famous Lebanese singer Najwa Karam and top international model Nathalie Fadlallah. His next fashion show was held at the world-renowned Burj Al Arab Hotel, presenting an opulent collection to a discerning audience, including royalty.
Since then, Mr. Atallah has presented his memorable collections at dozens of fashion events throughout the Arab world as well as in the fashion capitals of Italy and France, where he received an excellence in international design award from the French Association of Fashion Designers. His 2009 and 2010 appearances at Couture Fashion Week in New York were widely applauded and enthusiastically received. In early 2011 Mr. Atallah was invited to show his latest bridal collection as a special guest designer at the prestigious International Wedding Exhibition and Fashion Show in Doha, Qatar.
Mr. Atallah has become well-known internationally for his exquisite evening and bridal designs, and for his skillful use of diamonds, precious gems and genuine Swarovski crystals, including a fabulous bridal gown valued at US$1.2 million. In 2005 Mr. Atallah debuted his own line of luxury jewelry made with diamonds, rubies, sapphires, emeralds, blue marine and Tahitian pearls, and fine watches have since been added to the line. The talented and versatile designer recently launched his pret-a-porter line entitled "W", which includes trendy jeans and tops for today's fashionable and modern woman.
Walid Atallah's accomplishments in the fashion industry have been recognized by numerous awards and honors from many prominent dignitaries and professional organizations. His distinguished clientele includes many celebrities and Middle Eastern royalty. He is on the advisory board of Dubai Fashion Week and has been selected by the Diamond Trade Company (part of the DeBeers group of companies) to be a judge at a diamond jewelry design competition in the Arabian Gulf region.
Walid Atallah continues to expand his business and reputation as one of the Middle East's top designers with branches currently in Al Ain (UAE), Qatar, Lebanon, Saudi Arabia, and Libya.