Atlanta, Georgia,

January 18, 2007 -

Merrell McGinness introduces a new upscale Spring/summer 2007 line featuring exciting yet enduring handbag designs in leather and canvas with leather trims. After two seasons of producing bags made of fine fabrics, this new collection features six styles that form a unique system that combines high- end design and modern functionality. The interchangeable handbags feature multiple interior and exterior pockets, the highest quality leather, hardware and unique detailing.

We wanted to create a chic everyday bag for the multitasking woman who may be working, traveling or a busy mom, says co-owner Merrell McGinness. We feel our look is fresh and different, yet classic enough to endure passing fads.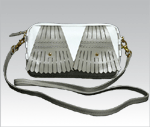 McGinness owns the company with her mother, Marilyn Hubbard. Each of the women possess a strong creative talent and energy that comes from a combined love of art, quality fashion designs and a desire to always be challenged. Merrell has always been interested in her own style and combined modern looks with pieces from her mother's closet for years, while her mother's inspirations come from years of market buying trips and extensive travel in the U.S and abroad.

Merrell McGinness
Spring/summer 2007 collection is on display at www.merrellbags.com as well as in upscale boutiques across the Southeast.