Kgadi LLC holds the exclusive license to design and manufacture high-end handbags featuring NBA Basketball Team Logos and other trademarked images, including NBA Basketball team member player names and numbers. Handbags are available for purchase through www.kgadi.com and at The NBA Store, which is located at 666 5th Avenue (at 52nd Street) in New York City. Kgadi bags will retail for $110.00USD through www.kgadi.com as well as at the NBA Store in New York.

The following teams and players are currently available in Kgadi's line: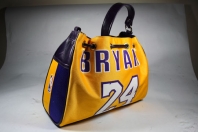 Team Logos - Miami Heat, Los Angeles Lakers, Denver Nuggets, Cleveland Cavaliers, Phoenix Suns

Players Kobe Bryant, Lebron James, Steve Nash, Dwyane Wade, Carmelo Anthony, Allen Iverson
Mokgadi is a native of Pretoria, South Africa. She moved with her Mother and younger sister to the United States when she was eight years old. The move was a surprise to Mokgadi and her sister, as their mother told them they were going to Disney Land. The move proved to be an even more exciting adventure than a theme park.

The family settled in Atlanta, Georgia where her mother was a graduate student at Emory University. When she was ten years old, her mother bought Mokgadi a sewing machine to help her assemble the Barbie doll clothes she loved to design. She also loved, even as a pre-teen, combing yard sales, searching for vintage and old clothing. She would use her finds to create doll clothes and accessories for her mother and sister. Her love of design continued, and in high school and during the summer, she took as many art classes as were available.

Mokgadi's mom, one of her biggest supporter's encouraged her to pursue fashion, suggesting she apply to New York's Fashion Institute of Technology. She was accepted into the Accessories Program there in 1999. Early the next year, a friend of the family gave Mokgadi tickets to her first New York Knicks game. She was immediately captivated. It was the first of many games she would attend. The National Basketball Association'the games, teams, coaches and the excitement of its fans, grew to be one of her biggest passions. The experience also proved to a transformative one for Mokgadi's vision in the design industry.

That year, an accessories professor at FIT offered Mokgadi and her classmates a challenge. Each student was asked to create a handbag of their own design, using the same pattern. Mokgadi designed a piece, inspired by the NBA. The bag was featured in the 2002 Rockport Making Handbags book. Mokgadi drew on that first handbag to create a collection for her senior project. Her designs were a hit, generating excitement among students and faculty. Everyone wanted to know where they could buy one. The idea behind the business was born.

Encouraged by friends and family, Mokgadi arranged a meeting with the NBA. In preparation she conducted market research on various college campuses to discover the viability and demand for a project like hers. She started business classes at FIT. She interned at Ralph Lauren footwear in order to learn about the business end of design and licensing. And, she met with lawyers to formally establish her company. Kgadi, LLC, (hat-tt-ie), which is a South African word that translates to Girl! She was ready to meet with the buyer.

Impressed by her designs and her preparation, 25-year old Mokgadi secured her first order from the NBA and became an NBA licensee in 2006.
Note : for the most current list of licensees, we suggest you contact directly with the NBA. The Apparel Search Company does not verify licensing agreements or expirations dates of agreements.