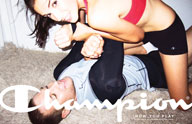 Champion, a leading athletic apparel brand for men and women,

recently

announced the launch of a national ad campaign featuring a new tagline, "How You Play." The campaign, which includes print, out-of-home, online and viral components, is designed to capture the everyday moments of fun and sport in a series of cool and hip lifestyle images.

"The new ad campaign for Champion represents an exciting new chapter in the history of this iconic brand," said Claire Edgar, Director Champion Brand Marketing. "While we have always played off our strength as the authentic athletic brand for the real athletes everywhere, we also wanted to show off our stylish side especially to younger consumers, those in their 20's.

"It's about injecting fitness and fun into the many vignettes of our lives. For most of us, we enjoy sports and fitness, especially as a time to engage with our friends, but working out is not our entire life. The new "How You Play" campaign reflects Champion's approachable, energetic spirit outside of the traditional gym environment - you see men and women running on the beach, playing touch football or enjoying time together at home."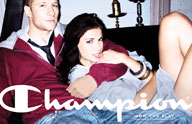 The new campaign, created by The Kaplan Thaler Group, is the company's first work since winning the account.
"The focus of the campaign is about all of the people in our lives and how we integrate sports into the big picture," said Linda Kaplan Thaler, CEO and Chief Creative Officer of The Kaplan Thaler Group.
"Together with photographer Miko Lim, we were able to capture some very compelling and breakthrough images which we then executed across a variety of media to communicate our messages in new and very creative ways."
As part of the out-of-home campaign, an unusual outdoor execution will feature two adjacent billboards showing a man and woman in separate ads at New York City's Penn Station and in Los Angeles. The man appears to be checking out the woman who is looking over her shoulder at him. They soon "move in together" into one billboard, while the other billboard displays the Champion logo.
You may also have interest in the fashion shopping articles ...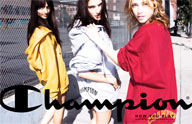 The print campaign will launch in November with gatefolds, spreads and full-page ads running in Details, Maxim, Blender, Vogue, US Weekly, Lucky, Cosmopolitan and other magazines through January 2008.
Out-of-home bulletins and out-of-home street kiosks will run in cities such as New York, Los Angeles, Chicago, Dallas and Miami until spring 2008.
The "How You Play" campaign is the first for the Champion brand since 2003. The Champion brand is owned by Hanesbrands, Inc., which has increased investment behind its largest and strongest brands since its spinoff as an independent company in September 2006. Hanesbrands announced on October 31 that is has entered into a multifaceted 10-year marketing alliance with Walt Disney Parks and Resorts, including naming rights, product co-branding and category exclusivity for apparel sales involving the Champion and Hanes brands.
Hanesbrands acquired the naming rights for Champion for the stadium at Disney's Wide World of Sports Complex in Lake Buena Vista, Fla. Champion Stadium will be home for the Atlanta Braves spring training and is part of the nation's premier amateur sports venue, attracting more than 1.1 million visitors and 240,000 athletes each year.
In addition to being the official activewear apparel for the sports complex, Champion has category exclusivity, along with Hanes, for select apparel, including T-shirts and fleece wear, at Disneyland Resort in Anaheim, Calif., Walt Disney World Resort, and all eight ESPN Zone restaurants and stores across the country. Much of the apparel at the venues will be co-labeled ESPN Zone by Champion and Disney's Wide World of Sports Complex by Champion.
The alliance also includes in-store promotional and brand building opportunities at the ESPN Zone restaurants in Anaheim, Atlanta, Baltimore, Chicago, Denver, Las Vegas, New York City and Washington, D.C. The alliance was announced Oct. 31. Terms were not disclosed.
About Champion
Champion offers a full line of innovative athletic apparel for men and women including sport bras, activewear, team uniforms, sweats and accessories. Champion can be purchased at most sporting goods and department stores. For more information about Champion for men and women visit www.championusa.com. Champion is a brand of Hanesbrands Inc.
About Hanesbrands Inc.
Hanesbrands Inc. is a leading marketer of innerwear, outerwear and hosiery apparel under strong consumer brands, including Hanes, Champion, Playtex, Bali, Just My Size, barely there and Wonderbra. The company designs, manufactures, sources and sells T-shirts, bras, panties, men's underwear, children's underwear, socks, hosiery, casual wear and active wear. Hanesbrands has approximately 50,000 employees in more than 25 countries.
About The Kaplan Thaler Group
The Kaplan Thaler Group has been ranked by industry publications as the one of the fastest-growing advertising agencies in the U.S. and is touted for its breakthrough creative and immediate results. KTG's blue-chip client roster includes Aflac, Continental Airlines, Outback Steakhouse, Pfizer, Procter & Gamble (Dawn and Swiffer, among other brands), Revlon, Trojan, U.S. Bank and Wyeth (Centrum and Caltrate). The Kaplan Thaler Group is part of the Publicis Groupe, one of the world's largest communications holding companies.