Margaret's Cleaners, one of the nation's premier gown preservation specialists, proudly announces that it has earned the 2007 Award of Excellence and Master Dry Cleaner designation from the Dry Cleaning and Laundry Institute. Margaret's is based in La Jolla, California, has additional locations in Del Mar and Newport Beach, and delivery throughout San Diego and Orange Counties.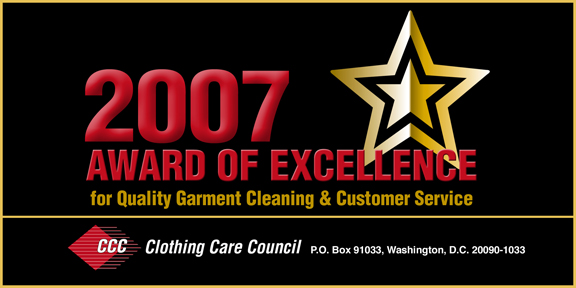 In 2004, the International fabricare Institute (IFI), now known as the Dry Cleaning & Laundry Institute, began a program of testing for dry cleaners. In operation as a school in Silver Springs, Maryland, since 1927, the Institute's knowledge and experience in the field of textile cleaning and issues with fabrics, have made them one of the most extensive resources for knowledge and problem solving for the dry cleaning industry. The Institute began the Award of Excellence program as a way to let consumers know that they have found a cleaner who is committed to quality and customer service. Thus far only 150 dry cleaners in the nation have earned the Award of Excellence.


To earn this award the cleaner must demonstrate their commitment and quality in a number of areas, which include ongoing educational programs for staff, passing an annual Cleaning Quality Performance Test and a Stain Removal Test (6 difficult stains on white silk), and upholding a set of customer service principles, which includes a money-back guarantee (see poster pictured here). In addition, they are expected to show a commitment to professionalism, use secret shoppers, and submit their plant to an evaluation by a cleaners association. Successful Award of Excellence cleaners demonstrate a level of quality and dedication to customer satisfaction which far surpasses the average dry cleaner.

Those who pass the tests on the first try receive the Master Dry Cleaner classification, achieved only by the most superb stain removal specialists in the industry. The testing is quite extensive and thus far only 80 of over 38,000 dry cleaners in the country, have earned this designation.

The Institute's goal is to give consumers a way to differentiate between the myriad of cleaning establishments in their community. It is estimated that approximately 80% of all dry cleaning plants are doing substandard work. A person can have confidence in a cleaner who achieves the Award of Excellence and Master Dry Cleaner designations. It is hoped by the entire industry, that these watchdog efforts by the Institute will produce an overall difference in quality and service from dry cleaners, improve the image of the industry and encourage the public to use only quality-oriented plants that pass the rigid criteria defined by the Institute. Margaret's Cleaners was one of only 10 dry cleaning and laundry plants nationwide to pass this test in 2007. In addition, the Master Spotter designation was also won by Margaret's on their first attempt. This couture level establishment prides itself on quality first! Margaret's is to be commended for its efforts to become a couture level professional.

More About Margaret's Services: Margaret's Cleaners has three Southern California locations La Jolla, Del Mar and Newport Beach. In addition, six drivers deliver throughout San Diego and Orange Counties. Customers include over 70 different couture garment retailers. Owing to the number of couture garments we process, Margaret's is one of the top three couture cleaners in the nation and the only 5 Star Certified Couture Cleaner in Southern California, as recognized by Leading Cleaners Internationale. The company's services include fine dry cleaning, couture alterations, beaded and evening apparel cleaning, knit blocking and repair, wedding gown preservation, textile restoration, French hand laundry, purse cleaning, and leather and suede cleaning. The company takes pleasure in tackling the most challenging cleaning jobs. Margaret's Cleaners is a family-owned business, which takes pride in exceeding their customer's expectations, is committed to customer satisfaction, and provides a work environment that recognizes and values the hard work of every employee.