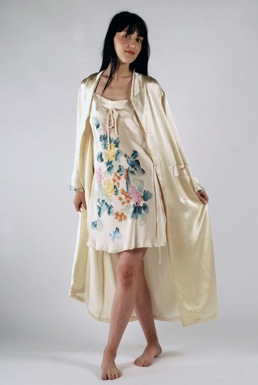 I recently received a press release from Texere Silk announcing a new artistic line of hand painted silk sleepwear and hand painted silk scarves.
A visit to the website revealed an appealing collection of silk apparel including pure silk caftans, chemises, nightshirts, robes, and scarves. I found the silk nightgowns to be the most alluring. The silk nightgowns can be purchased separately, but some of them come in a set with a robe.
The hand painting work, I must say, is high quality
certainly much more upscale than a lot of hand painted garments I have come across. Anything labeled hand painted is also hand dyed. The company says that the silk products have been tested to be colorfast, and that many of them can even be machine washed.
The hand painting process, as I understand, is complex and laborious. Essentially, it is a three-step process, and sometimes three factories are involved in the production of the garment. First, white silk is stretched on long frames and hand painted and dyed in the painting workshop. Second, the cloth is sent to another factory for curing and steam processing. Third, the tailoring factory cuts and sews the garment.
Hand painted silk scarves are more commonly available, because they are relatively easy to make. But putting these designs precisely on a gown or chemise would require significant coordination between the painter and the tailor. So far, I had only seen hand painted caftans or nightshirts and certainly not in the quality offered by this new brand.
I wouldn't be too surprised to soon find these products at a Beverly Hills boutique at 5 times the current price!