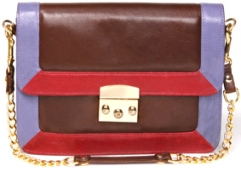 For Spring 2009, Rebecca returns to her original passion: apparel design. Rebecca's ready-to-wear line is inspired by the women who wear it: confident ladies who like to have fun and wear their heart on their sleeve (and a bag on their arm). And just like her handbag line, the magic is in the details.
Born in San Diego, California, Rebecca grew up surrounded by beautiful sights. As a direct result, her first love was the art of design; she began sewing at the age of 8. Although Rebecca's handbags have been a hit around the world - from the red carpet to the street - her first foray into fashion was apparel. She launched her eponymous clothing line in 2001 with the details and fashion-foresight one would expect from a well-made garment. In fact, it wasn't until her good friend and actress Jenna Elfman asked her to design a handbag for her next movie that the Morning After Bag - and thus, the Rebecca Minkoff handbag collection - was born. Faced with the overnight sensation created by the MAB, Rebecca seamlessly transitioned her design efforts to handbags. As in her clothing, Rebecca strives to design bags for everyday women that are versatile in color and comfortable in style.
Since its inception, Rebecca Minkoff's handbag collection has been spotted on the arms of such celebrities as Agyness Deyn, Hayden Panettiere, Blake Lively, Rachel Bilson, Sarah Jessica Parker and Bijou Phillips. Now, the Rebecca Minkoff brand can be found in high-end department stores and boutiques across the world, including Nordstrom, Bloomingdale's, Neiman Marcus, Saks Fifth Avenue, Henri Bendel and Shopbop.com. She is also carried in over 10 countries, including Japan, France, Russia and Canada.
Already a woman-to-watch at 28, look forward to more great things from this fantastic designer. If you have your eye on fashion, you should keep an eye on Rebecca Minkoff.
Note: The handbag image above is Truly the Belle of the ball, this bag lives up to its name (Belle). Its square shape and delicate chain bring the elegance, while it's chunky gold closure brings the funk.