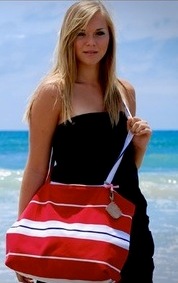 In February 2009 Rachel Sanches & Yadira Santiago teamed up to start Joy Fabiano, with a mission to help the environment one bag at a time. Sanches's & Santiago's goals are to support a greener universe by recycling unwanted materials into chic fashion accessories, and thus provide every woman with the perfect handbag that is as unique as herself.
Joy Fabiano serves as a resource for the San Diego community to reduce space waste by allowing the community to make clothing donations. Sanches & Santiago also believe in giving back, therefore they donate 10% of sales to a charitable organization. Joy Fabiano fans are able to suggest their favorite charities then later vote in a poll on Joy Fabiano's website to choose which charity Joy Fabiano will support. Fans recently selected Invisible Children.
Sanches & Santiago released their first collection of handbags in June 2009. Each bag is handmade & designed by the owners, featuring a signature Joy Fabiano hanging tag - made out of used burlap sacks. The second collection of handbags will be released in October 2009, featuring a variety of military inspired handbags constructed out of donations from local service members.