Shortly following a successful launch this past August, Common Soles LLC, is now announcing the release of two new styles of flip-flops. The sales of these two new styles will generate funding to support education in the region of India in which they were crafted.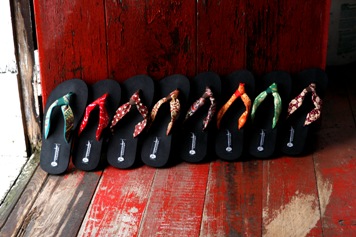 Common Soles partnered with the folks at a footwear factory in Vijayawada, India to source materials for the two new styles from local vendors. Common Soles sources all materials local to the factory so as to eliminate and/or reduce the shipping of components that results in unnecessary resource consumption. Common Soles is also using natural jute in the strapping for the men's Aiman Fezz flip-flop and sari print fabric for the strapping of the women's Natya flip-flop. By using local materials and styles these hand-crafted flip-flops have a unique look and feel to them. It was important for us to create a product the workers would be proud to make for people in the US, said Common Soles Co-founder and CEO Dave Mesicek.
5% of the selling price of each pair will be dedicated to funding education at an all girls school in Purchuru. Education is a top priority for the workers and people here in the Andhra, we want to be sure we are remaining focused on them, and sharing what is really important for the community with our fans said Co-founder and COO Rao Naraharasetty. Common Soles also covers the cost of administering the funds collected which means there is no erosion of funds along the way. This expense is born by Common Soles outside of the 5% collected.
The two new styles, along with the company's first flip-flop, can be viewed online at the Common Soles website: http://commonsoles.com. Further detail on the initiatives funded via the sale of Common Soles flip-flops can also be found on the company's website.
Common Soles LLC, was founded in 2009 in Wellesley, MA by Dave Mesicek and Rao Naraharasetty as a brand of footwear that exists as a means to generate funding to support community improvement initiatives in manufacturing communities around the globe. Additionally, Common Soles will bring innovation and transparency to the footwear supply chain through making the direct connection between the factory worker and the eventual consumer. Common Soles footwear is handmade by skilled craftsmen and women in many of the world's regions where Common Soles
funded initiatives are in action.
Common Soles products are available online at www.commonsoles.com and via select retailers.
Common Soles Introduces Line of Flip-flops to Fund Education in India
Fashion Article Posted September 9, 2009