Converse keeps kids looking great as they head back to school this Fall, in colorfully bright fames from Converse Kids Eyewear. Kids won't believe their eyes, when they see the new glow-in-the-dark Flutter and Zoom optical frames!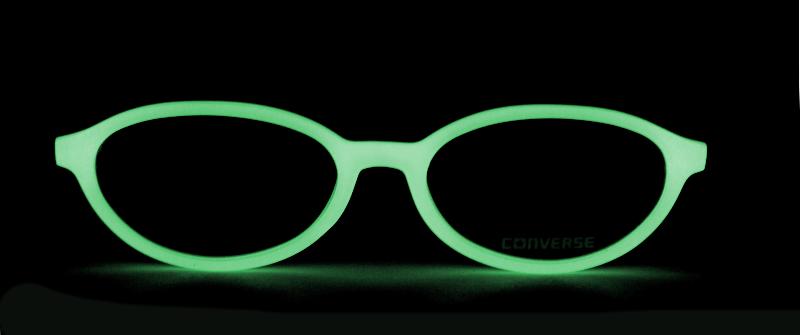 School dances and late night study sessions will never be the same with the new Flutter and Zoom frames. The Flutter comes in fruit punch pink with star scattered temples, and the Zoom in bold blue for boys come with a tartan temple. These special frames soak up the light during lunch time, to power-up for a night time glow. When the sun sets or the lights go dark, these optical frames emanate a luminous light.
Playground regulars for the boys also include the Zap with graphic slash patterns on a matte metal frame and the Zing, its more conservative counterpart. Yikes is so awesome it's scary, with a vintage inspired acetate front and skull and cross bones patterns on the temples. Girls are looking good in the Pop, a class-act cat-eye shape, and the Purr sports leopard spots on the temples for a touch of fashion fabulousness.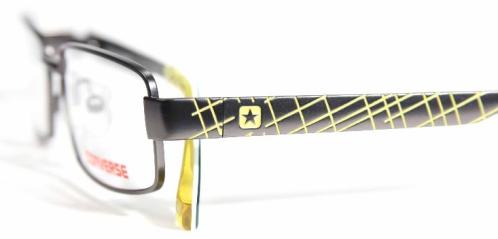 Every Converse Kids frame comes with REM's exclusive Kid's Promise Guarantee, a unique program that provides kids with 100% unconditional protection against loss or breakage on their Converse Kids frames for one year after purchase.
The Converse Kids Eyewear Collection is the perfect top-off for the new Converse Kids Apparel and Accessories Collection, launching Fall 2012. This new collection that has everything from varsity jackets for boys to hoodie dresses for girls, created with the pioneering spirit of children. Converse encourages kids of all ages to express themselves creatively from day one.
About Converse
Converse Inc., based in N. Andover, Massachusetts, is a wholly owned subsidiary of NIKE, Inc. Established in 1908, the Converse brand has built a reputation as "America's Original Sports Company"™ and has been associated with a rich heritage of legendary shoes such as the Chuck Taylor® All Star® shoe, the Jack Purcell® shoe and the One Star® shoe. Today, Converse offers a diverse portfolio including lifestyle men's, women's and children's footwear, apparel and accessories. Converse product is sold globally by retailers in over 160 countries and through 63 company-owned retail locations in the U.S. For more information, visit Converse on the web at www.converse.com.
View more of the Kids Eyewear and discuss your thoughts on G+.
Learn more about Converse. We assume you know, Converse is a division of Nike.

Read more fashion news articles from 2012: January 2012 Fashion Articles
Read more fashion industry news archive from 2011: 2011 Archive Fashion Articles
Read more fashion articles from 2010: 2010 Archive Fashion Articles
Read more fashion articles from 2009: 2009 Archive Fashion Articles