With the weather warming up, Counter Culture (www.counterculturestore.com) is kicking off an outdoor concert series March 15 and 22 (1-4 p.m.) on the Mezzanine level at Mockingbird Station (adjacent to the Angelika Film Center).
Local rock/pop band, Sparrow Box (www.myspace.com/httpwwwmyspacecomsparrowbox), will be headlining this Saturday, March 15, from 1 to 2:30 p.m. Sound artist Khurk (www.myspace.com/khurk), Counter Culture's current artist of the month, also will be displaying his art, along with photographer and graphic artist, Aspen Polvi (http://uta.facebook.com/profile.php?id=533777081&hiq=aspen%2Cpolvi), and multimedia artist, Asher Feehan (www.facebook.com/profile.php?id=828608908&hiq=asher%2Cfeehan). Counter Culture also will have a trunk sale, selling vintage tees and accessories from its store on site.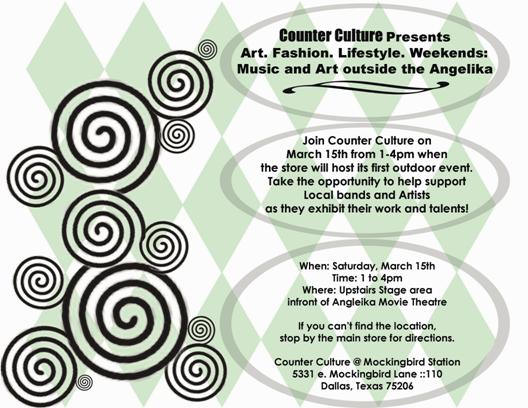 Ramping up its support of local artists and musicians, Counter Culture will sponsor the semi-monthly concert series
consisting of a live band and 3-4 local artists displaying their work
through August.
The store is gaining quite a following among musicians, with patrons such as pop star Jessica Simpson and country music singer Jason Aldean, who recently shot video in the store for his band's tour. (That footage aired on CMT Insider last month.)
For more information or to sign up as a featured artist, call (214.414.1095) or stop by the store (5331 E. Mockingbird Lane, #110) during business hours.