Certainly it is not summer time, but will arrive eventually, which means finding the right undergarments for sundresses and tank tops, not to mention bikinis!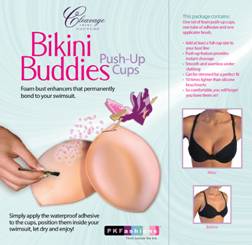 PKFashions has a bra for every occasion'the removable Fashion Stick Cups, $19.99, come in different shapes to accommodate most dress styles. The Push Up Cups, $19.99, are ideal for strapless and spaghetti-strapped dresses, while the Triangle Push Up Cups, also $19.99 are perfect for halter-style gowns. What makes PKFashions bra cups different from the rest? These reusable, comfortable cups adhere to clothing rather than the skin
no more sticky skin or squirming in your dress.
A few features of PKFashions bra cups:
-Self-supportive, self-adhesive & skin friendly.
-Add at least a full cup size to your bust line.
-Push-up feature provides instant cleavage.
-Can be worn 100+ times.
-Smooth and seamless under clothing.
-Adhesive regenerates after each washing.
-Can be trimmed for a perfect fit.
-10 times lighter than silicone bras/inserts.
-Leaves no residue in your clothing.
-Easy wash and wear.
-So comfortable, you will forget you have them on!
-Kit contains 2 cups
-Available in 3 sizes: A, B, C
After the nuptials, Bikini Buddies, $14.99, are a fantastic addition to any swimsuit. Bikini Buddies are permanently bonded to the lining of the swimsuit providing no worries to cups shifting or, even worse, falling out! All of the cups add volume, coverage, and most importantly the highly coveted cleavage.
Sold nationwide at major department stores including Bloomingdale's and Saks Fifth Avenue, PKFashions is also available online at www.pk-fashions.com.
PKFashions
innovative bra cups provide the coverage you need and the flattering silhouette you crave. Please visit www.pk-fashions.com for more information.