On March 16th Volcom will open its 3rd UK store at BOXPARK Shoreditch. Based in the heart of East London for the next five years, BOXPARK is a retail revolution as the UK's fi rst pop up mall.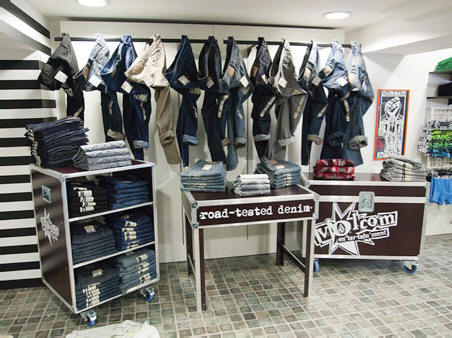 The mall is created by striping and refitting shipping containers to create unique, low cost and low risk 'box shops'. The unique mix of international fashion and lifestyle brands, galleries and cafes creates a unique retail experience, home to over 30 brands including Puma, Vans, 55DSL, Levi's, The North Face, Calvin Klein Underwear and Oakley.
Volcom, who also have independent stores in Covent Garden and Falmouth are excited to witness the continued growth of the brand and be part of the innovative group of retailers at BOXPARK. Their European Marketing Manager says: "We are really excited with the opening of our second London store at Boxpark. Shoreditch is defi nitely a key infl uential area in one of the world's leading cities in terms of street wear and youth culture. With Volcom experiencing a substantial growth in the UK, we felt the timing couldn't be any better to reinforce our presence at retail." – Phil Lalemant, Marketing Director Europe.
Volcom is a modern lifestyle brand that embodies the creative spirit of youth culture. The company was founded on liberation, innovation and experimentation while remaining dedicated to the breakdown of established traditions. Their avantgarde approach to clothing and branding has set it apart in the action sports industry and beyond with its goal to provide clothing to people who share the passion for art, music, fi lm, skateboarding, surfing, snowboarding and motocross.
The products (which include streetwear, boardshorts, denim, swimwear, sandals, accessories and outerwear) incorporate a distinctive mixture of fashion and function combined with quality, comfort and athletic performance. The environmentally conscience V.Co- Logical Series, the rider-collaborative V.Co-operative Series and the Featured Artist Series are just few of Volcom's premiere product collections. With designs for men, girls and youth.
The brand which, fi rst launched in 1991 has also had huge success with its Featured Artist Series. Launched in 1995 this provides a platform for aspiring artists to express themselves through the line of products including T-shirts, hats, wallets, boardshorts, sweatshirts and woven/knit shirts.
The new store will house a number of these products along with the girls SS12 collection; a selection of denim, tees and fleeces, jumpsuits, maxi skirts and accessories along with the men's shirts, tees, jumpers, jeans and caps and a selection of records from Volcom Entertainment, the brand's own music label.
To celebrate the store opening, on March 16th – 18th, 2012 Volcom will be offering free gifts and a gift with purchase in the form of a customized cap or tote bag.
For these limited three days, the shopper will be able to customize their unique Volcom cap in the store there and then to create a one-off and individual hat.
For girls, any purchase in store gets them a gorgeous tote bag for free.
With plenty more in-store activities in the pipeline, keep checking in to see what Volcom will have planed next.