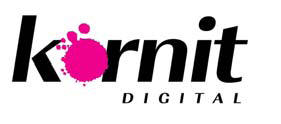 Kornit Digital, a leading-edge company that develops, manufactures and markets industrial digital high-speed inkjet printers, superior pigmented ink and unique chemistry solutions for the garment & apparel decorating industry, today announced the conclusion of the Kornit 933 beta site period with immense success and its availability for sale.
Kornit 933 offers advanced digital printing capabilities combined with screen printing performances in a simple, cost-effective solution. This unique, ground-breaking device added to the company's elite product line last year, is the first and only digital add-on station for screen printing carousels, designed to create combined printing applications and innovative designs, all in one built-in printing module. The 933 machine which is based on Kornit's D.O.G printing technology as its other flagship products, featuring the company's well-known tailor-made inks, was released to three beta sites at the end of last year and has been tested for nine months undergoing continuous R&D tunings. During that time, Kornit was able to reach the highest compatibility between its own inks and most screen decorating applications (flock, foil, metallics, plastisol, etc.) and produce a variety of digital & screen applications while showcasing remarkable printing results. Moreover, the machine was adapted to match most common automatic carousels in the market today.
KOKOLO, one of the largest textile screen printing companies in France, recently concluded the Kornit 933 beta period. "We are fully satisfied after several months of use" says Philippe Nogues, CEO of Kokolo. "We are now able to print pictures that we couldn't print in the past which enables us to offer our customers innovative products featuring traditional & digital printing combinations". Nogues adds: "This machine has a great future. Its technical advances and especially its printing speed will shortly enable it to compete more & more with traditional printing".
Sarel Ashkenazi, VP Marketing & Business Development at Kornit adds: "We are extremely satisfied with the overwhelming results we were able to reach during the past year. The beta period clearly showed us the decorators' increasing needs for combined applications, and we are glad Kornit was able to successfully provide once again a winning solution".
Learn more about: Textile Printing Companies & Digital Printing