Fashion Textbook Author, Mary Wolfe, Seeks to Give Students an Edge
Mary Wolfe, author of the soon to be released textbook Fashion Marketing & Merchandising, has included six photos from OptiTex showing its industry-leading design technology. The book is scheduled for release this month by Goodheart-willcox, a premiere publisher of technical, trade and career education texts since 1921.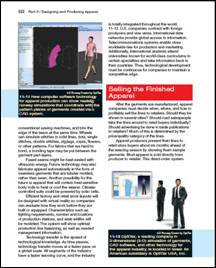 While updating an earlier edition of mine, titled The World of Fashion Merchandising, I researched essential factors in the industry with an eye toward not only what's current, but the future directions of fashion merchandising,
states Wolfe. OptiTex has established itself as a CAD/cAM leader, with designers in fabric-related industries and educational centers worldwide embracing its software. It was important that my textbook show OptiTex technology.

OptiTex's computer-aided design (CAD) and computer-aided manufacture (CAM) with fully adjustable 2D and 3D models are deployed in such leading fashion houses as Hugo Boss, Tommy Hilfiger, Land's End and Kozomara due to its rapid ROI. OptiTex eliminates waste by allowing designers to see on screen how their design will move via a seemingly endless array of parameters. Eliminating waste of fabric, paper, and reducing energy consumption also provides OptiTex with a green advantage.
Both students and designers particularly appreciate our creativity-enhancing customizable on-screen working environment, states Ran Machtinger, President and CEO of OptiTex, Ltd. Our user-friendly, intuitive software was specifically structured with the creative individual in mind, and students can essentially be designing within minutes of opening the program.


Making sure that students who use my text have a competitive edge was absolutely essential to me, concludes Wolfe. OptiTex offers the latest design software, and anyone studying about the fashion field should know about it.

About OptiTex For 20 years, OptiTex has been the leading developer of 2D & 3D solutions for textile, industrial fabrics, apparel, upholstery, transportation, composites, homes furnishings and other sewn products. Our native Windows-based software for digitizing, pattern engineering, grading, marking, advanced automatic nesting and draping, is specifically designed to meet the needs of today's manufacturers of industrial fabrics, apparel, upholstery, transportation, composites, home furnishings, among others. OptiTex's open architecture system features a multitude of import/export formats, enabling OptiTex users to interface with a wide range of software and hardware. OptiTex also offers a completely integrated CAD package. OptiTex products are available in more than 20 languages and are sold and supported around the world through certified distributors and OEMs.
Learn more about OptiTex.
Learn about fashion books.