What are basics? They are still fashion, but they are possibly not as fashionable (trendy) as other styles of clothing. They are more "plain". This type of clothing is rather "basic".

Fashion Basics on Amazon: find a wide assortment of fashion basics on Amazon from a variety of clothing designers, brands, and manufacturers.
Daily Ritual : Daily Ritual celebrates the beauty in simplicity. Their range of coveted classics features tees, tanks, dresses, and leggings that are ready to be styled, layered, and lived in. Each piece is made with luxuriously soft fabrics and is priced to make stocking-up a breeze—you'll want one in every color.
Amazon Essentials : Amazon Essentials is focused on creating affordable, high-quality, and long-lasting everyday clothing you can rely on. Their line of women's & men's must-haves includes polo shirts, chino pants, classic-fit shorts, casual button-downs, dresses, sweaters, underwear, and crew-neck tees. Their consistent sizing takes the guesswork out of shopping, and each piece is put to the test to maintain the highest standards in quality and comfort.
Is a little black dress basic fashion?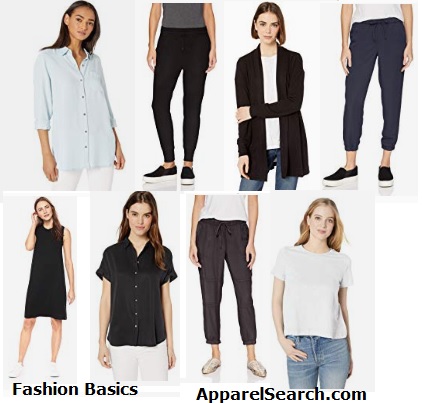 Shop for more clothing on Amazon.
Learn about Amazon fashion brands from the Amazon Fashion Brands page.

Example of Fashion Basics: basic t-shirts can be solid color as a opposed to a trendy graphic print design t-shirt. You may want to learn about blank t-shirts.
If dressing in "basics" is the new hot thing, then basics are in fact trendy.
Learn more about fashion brands on Amazon.
Learn about Amazon owned fashion brands.