Shopping for children's clothing has never been easier. If you are ready to shop for kids fashion, the links below will be a good place to begin your search for that perfect outfit.
◊ Infant & Toddlers Clothing at Auction
Below are a few clothing auction categories that may be of interest to you. Great place to find deals when shopping for your kids.
Children's Activewear
Children's Shirts
Children's Pants
Children's Pajamas
Children's Shoes
Children's Accessories
Children's Swimwear
Children's T-shirts
Children's Hats
Children's Socks
Children's Underwear
Boys Suits
Girls Dresses
- Girls Sundress
, Girls Communion Dress


Have you tried the Kids clothing store directory here at Apparel Search.. If not, you do not know what you are missing.
Here are a few more categories of possible interest if you plan to do some shopping today.
Children's Coats at Auction
Children's Long Sleeve Shirt Auctions
Girls Denim Skirt Auctions
Children's Jeans at Auction
Children's Sweater Auctions
Children's Short Pants Auctions
Children's Jackets at Auction
Children's Rain Boots at Auction
Children's Sportswear at Auction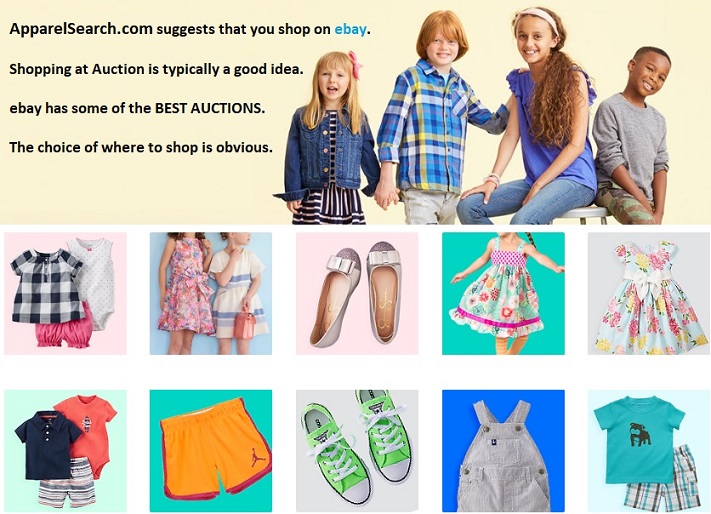 eBay is one of the most popular internet fashion sites for purchasing children's clothing. A great resource for fashionable, designer clothing, shoes and accessories. Kids with various interests and style will find a great assortment of clothing options on eBay. Find shorts, t-shirts, jeans, shoes, belts, and just about every other type of fashion imaginable.


You may wish to learn more about current style trends for kids by reading Children's Fashion News.
Have you ever shopped for clothing at Auction? If not, you do not know what you are missing... It is sort of fun at times.. Anyway, if you have interest in shopping at auction is a nice shopping alternative. Certainly, we think that shopping at a fashion boutique in New York, Los Angeles, or Milan may be a better way to go, but using the internet as an occasional method is not too bad.
Thank you for using the Apparel Search website.