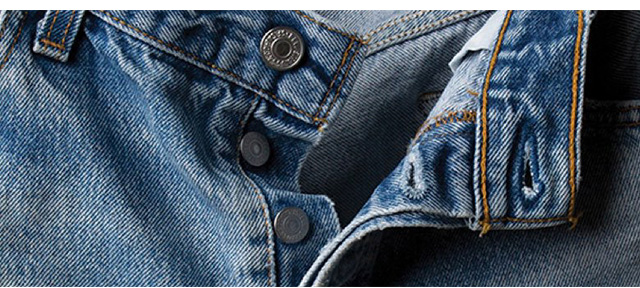 The button fly is an opening at the front of a pair of pants that fastens with buttons.
A fly on clothing is a covering over an opening concealing the mechanism, such as a zip, velcro, or buttons, used to close the opening. The term is most frequently applied to a short opening over the groin in trousers, shorts, and other garments.
The buttons are sewn on the placket. A placket is an opening in the upper part of trousers or skirts, or at the neck or sleeve of a garment. Plackets are almost always used to allow clothing to be put on or removed easily, but are sometimes used purely as a design element. Modern plackets often contain fabric facings or attached bands to surround and reinforce fasteners such as buttons, snaps, or zippers.
Trousers have varied historically in whether or not they have flies. Originally, trousers did not have flies or other openings, being pulled down for sanitary functions. The use of a codpiece, a separate covering attached to the trousers, became popular in 16th-century Europe, eventually evolving into an attached fall-front (or broad fall). The fly-front (split fall) emerged later. The panelled front returned as a sporting option, such as in riding breeches, but is now hardly used, flies being by far the most common fastening.
A button fly can be used on long pants, jeans shorts, and even denim skirts.
Designer jeans are also produced with this type of fly.
The first blue jeans out of the Levi's workshop in 1873 had a button fly. Zippers came later in the jeans history.
Levi's 501® Original Fit Jeans: since they invented it in 1873, the 501® Jean has been a blank canvas for self-expression. The iconic straight fit with signature button fly, the 501® Jean sits at the waist and is regular through the thigh with a straight leg. Slip into the comfy, on-trend style of Levi's® 501 button-fly jeans. This classic look is sure to become a go-to in your everyday rotation.
Most flies now use a zip, though button flies continue in use. Traditionalists argue, buttons are just as easy to undo as zippers and one can acquire some grace and skill with a little practice.
The button fly method is not only used on denim jeans. This method is used on other type of trousers as well.
Thank you for using the Apparel Search website.