What is a gusset in regard to apparel?
The gusset is a piece of material sewn into a garment to strengthen or enlarge a part of it, such as the collar of a shirt or the crotch of an undergarment.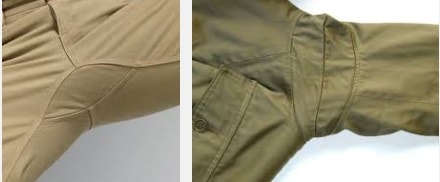 Gussets are used in manufacturing of modern tights and pantyhose to add breadth at the crotch seam. As with other synthetic fiber underwear, these gussets are often made of moisture-wicking breathable fabrics such as cotton, to keep the genital area dry and ventilated.
In sewing, a gusset is often a triangular, square or rhomboidal piece of fabric inserted into a seam to add breadth or reduce stress from tight-fitting clothing. The simplest gusset is a square of fabric, although some patterns call for a triangular gussets usually in shirt patterns were you have to sew a triangle to each side of the sleeve and then sew the sleeve to the body, so the last seam is the side seam of the shirt.
Gussets were used at the shoulders, underarms, and hems of traditional shirts and chemises made of rectangular lengths of linen to shape the garments to the wearers body.
Gussets are also used when making three-piece bags, for example in a pattern for a bag as a long, wide piece which connects the front piece and back piece. By becoming the sides and bottom of the bag, the gusset opens the bag up beyond what simply attaching the front to the back would do. You can check Youtube to see some examples of how a gusset on a bag is sewn and measured.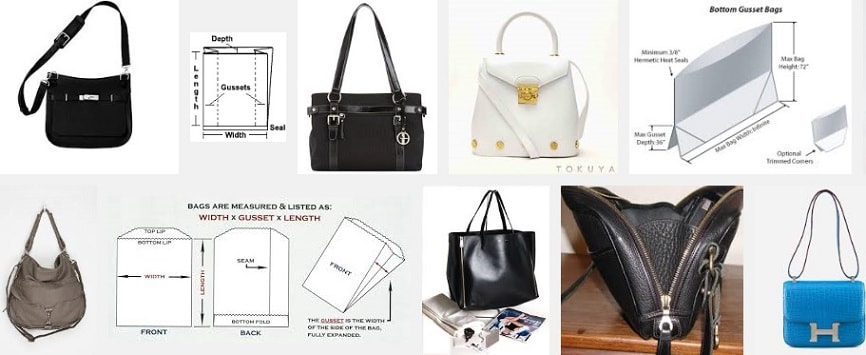 With reference to the dimension of the gusset, the measurements of a flat bottom bag may be quoted as L x W x G (length x width x gusset).
In summary, gussets are used in apparel and fashion accessories such as bags to add strength and rigidity to the product.
If you would like to learn more about size specs and shirt construction, you may want to also review our shirt yoke, smile pockets, racerback and raglan top terminology pages.