In summary a sequin is essentially a small, disk-shaped, shiny bead. They come in a wide assortment of colors. They are normally round but can have shape variations.
Some sequins are made with multiple facets, to increase their reflective ability.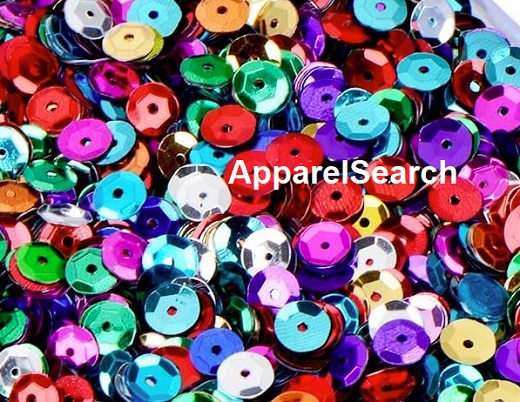 Using sequins on clothing is a way to embellish the garment.
Sequins can be used on a wide assortment of clothes & footwear.
Here are only a few of the popular categories:
Sequin Dresses
Sequin Tops
Sequin Shoes
Sequin Purse
Sequin Skirts
Sequin Sneakers
Sequins are also referred to as paillettes, spangles, or diamanté (also spelled diamante). Although the words sequins, paillettes, and spangles can be used interchangeably, diamanté (literally "set with diamonds") is both an adjective and a plural-only noun, which specifically refers to diamond-shaped sequins and can also be used to mean "artificial diamonds", which serve the same purpose as sequins.
What is the difference between a sequin and a spangle?
Sequins

have a center hole.

Spangles

have the hole located at the top.
Sequins may be stitched flat to the fabric, so they do not move, and are less likely to fall off; or they may be stitched at only one point, so they dangle and move easily, catching more light.
Paillettes are typically very large and flat.
Who was the first fashion designer to use sequins?
Good luck finding an answer to that question. Evidence exists that gold sequins were being used as decoration on clothing or paraphernalia in the Indus Valley as early as 2500 BC, during the Kot Diji phase.
Sequins in Fashion History
Sequins (mainly made out of reflective bits of metals) sewn into jackets, bonnets, and dresses were popular among the nobility and wealthy during the 17th to 19th centuries.
The use of sequins on dresses became very popular in the 1920's. The usage of sequins (typically made out of metal) were widely popularized as a fashion statement by flapper girls during this period.
In the late 1960s, sequins began to be widely used by popular musicians like The Supremes. Sequins continued to be popular into the 1970s and early 1980s.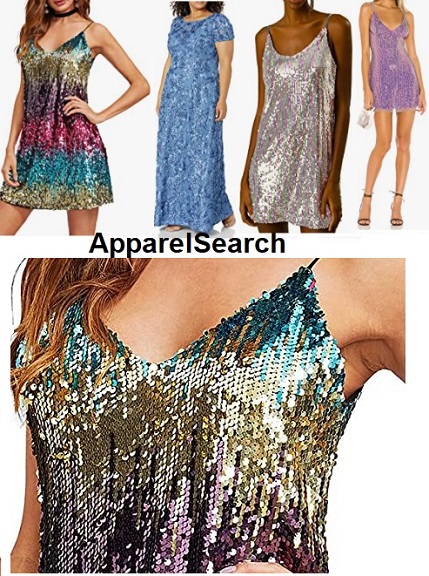 You may want to view our women's sequin swimwear guide section.
Fun Fact: Solid gold sequins sewn into royal garments were found inside the tomb of Tutankhamun.

Sequins are trendy from time to time but they are not always in style. If you think they are trendy this season, that means they probably are because you are always the best judge of trends.
We hope that you have found this page to be educational. If you can think of ways that we can improve, please share your thoughts.