Since 1895, OshKosh B'gosh has been the leader in manufacturing American kids clothes. They specialize in crafting high quality, affordable clothes for boys and girls that work on every level of kid's lives. From playtime to bedtime, school and beyond, OshKosh strives to continue the legacy of producing fun, wearable clothes for kids that are made to last. OshKosh began creating kids jeans fashioned to look just like Dad's iconic overalls. Fast forward over a hundred years, and OshKosh kids jeans are still one of their companies bestselling items. Manufactured with top quality fabrics, hardware and attention to detail so kids can live their lives while maintaining style and comfort. Over the years the company has branched out into casualwear, swimwear, outerwear, playwear, dresses and even sleepwear. Kids are their inspiration so they take the time to think about the things that are important in a kids' life and they make exceptional clothes to meet those demands. At OshKosh B'gosh, they love kids and kids love their clothes.
Learn more about Genuine Kids from OshKosh B'gosh at their website.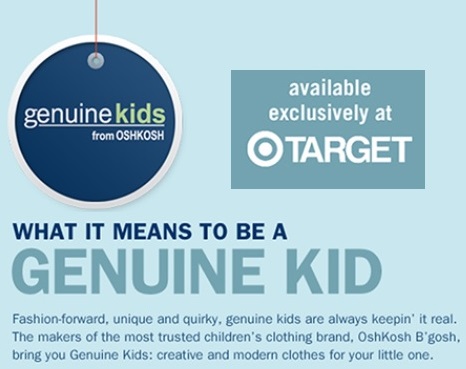 Learn more about the Oshkosh brand and Carters (Carter's acquired OshKosh B'Gosh).
If you have changed your mind and do not wish to research the brand Genuine Kids from OshKosh, you can use the search engine on this page to find another clothing label that may be of more interest.
Use our directory to find additional kids fashion brands to research:
What ever you are wearing, is in fashion. Are you spending the same amount of time thinking about what your kids are wearing?
You may also find interest in visiting our Fashion Designer Directory section.
Apparel Search is a leading guide to fashion, style, clothing, glam and all things relevant to apparel. We hope that you find this Genuine Kids from OshKosh page to be helpful.
Genuine Kids from OshKosh