The fuel for Jockey's growth continues to be a stream of differentiated and innovative products. Jockey's legacy of innovation began in 1934 with the introduction of the first men's brief. Today, among other innovative products, Jockey markets the only phase change technology in the underwear category, provides sport underwear that is clinically proven to outperform competing products, and recently launched a bra collection based on a unique sizing technology which is protected by over 50 patents.
Jockey International, Inc. is a manufacturer, distributor and retailer of underwear, sleepwear for men, women, and children. The company is based in Kenosha, Wisconsin. Jockey is known for having invented the first men's Y-Front brief in 1934. Jockey is a recognized trademark in 120 countries.
Jockey is the leading undergarment brand in the U.S. department store channel with major customers including Macy's, Lord & Taylor, Belk, Bon Ton, JCPenney, and Kohl's. In the U.S., Jockey has expanded distribution through related brands in Target and Wal-Mart.
Learn more about the Men's Jockey Brand clothing.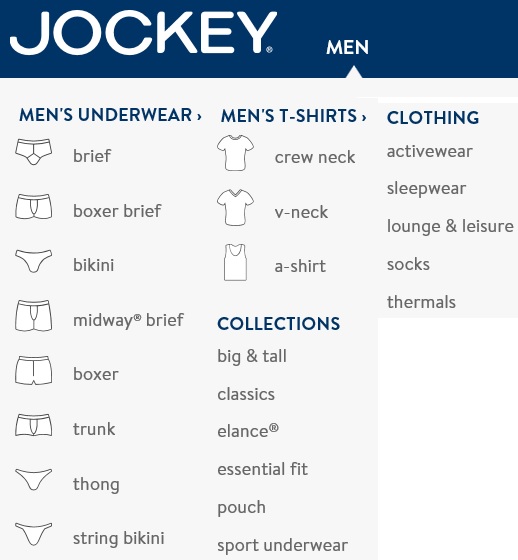 If you have changed your mind and do not wish to research the brand Jockey, you can use the search engine on this page to find another clothing label that may be of more interest.
Learn more about Jockey.
Research additional men's fashion brands from the following pages of our directory.
Have you seen our Fashion Designer Directory section?
The clothes that you are wearing today is most certainly in style.
Apparel Search is a leading guide to fashion, style, clothing, glam and all things relevant to apparel. We hope that you find this Jockey page to be helpful.

Jockey