An original Penguin by Munsingwear.
In the 1920's, the company behind the brand was the largest manufacturer of underwear in the world. Its slogan was "Don't say underwear, say Munsingwear".
The company was started by George D. Munsing, who came to Minnesota from New York in 1886 to set up a textile factory, along with Frank H. Page and Edward O. Tuttle. Munsingwear was a Minnesota-based brand of underwear from which Original Penguin developed. The company was established as Northwestern Knitting Company. It also was known as PremiumWear.
Munsing was a technologist and the company received several patents, including those for a crocheting machine in 1891 and a union suit in the early 1890s. The union suit was the company's flagship product until the 1920s, when central heating made it less useful.
In 1923 the company went public and changed its name to Munsingwear, Inc.
Munsignwear was purchased by Perry Ellis International.
Learn more about the men's Munsignwear brand.
In 1955, an ambitious salesman named Abbot Pederson traveled to NYC on a sales trip for the Munsingwear brand. With time to kill before a flight home, he decided to pop into a local bar for a few whiskeys. Taking a wrong turn down a Manhattan street, he oddly enough found himself outside a taxidermist's shop. Deciding he needed a drinking buddy for the flight, he bought a penguin and named him Pete. Pete was the original penguin.
You may want to also learn about Original Penguin at their website.
An original Penguin by Munsingwear.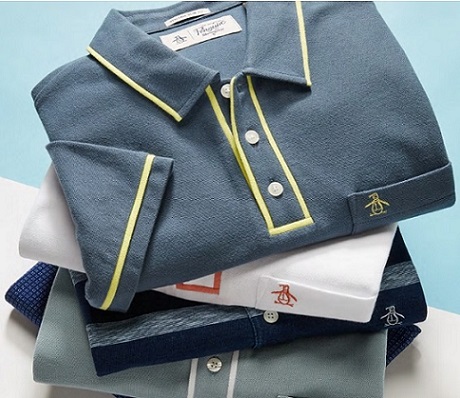 Learn more about Perry Ellis International.
If you have changed your mind and do not wish to research the brand Munsingwear, you can use the search engine on this page to find another clothing label that may be of more interest.
Research additional men's fashion brands from the following pages of our directory.
Have you seen our Fashion Designer Directory section.

Munsingwear