One of the largest shoe, clothing, and sportswear brand.
The company was founded in 1948 by Rudolf Dassler. In 1924, Rudolf and his brother Adolf Dassler had jointly formed the company Gebrüder Dassler Schuhfabrik. The relationship between the two brothers deteriorated until the two agreed to split in 1948, forming two separate entities, Adidas and PUMA.
PUMA SE, branded as PUMA, is a European multinational company that designs and manufactures athletic and casual footwear, apparel and accessories, headquartered in Herzogenaurach, Bavaria.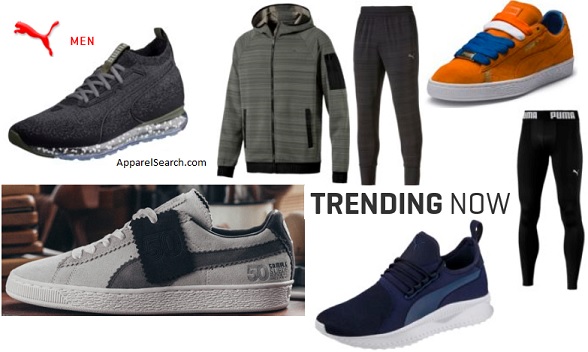 Learn more about the men's PUMA fashion and footwear brand.
PUMA has established a history of making fast product designs for the fastest athletes on the planet.
If you have changed your mind and do not wish to research the brand Puma, you can use the search engine on this page to find another clothing label that may be of more interest.
Research additional men's fashion brands from the following pages of our directory.
Have you seen our Fashion Designer Directory section?
Apparel Search is a leading guide to fashion, style, clothing, glam and all things relevant to apparel. We hope that you find this Puma page to be helpful.
The clothes that you are wearing today is most certainly in style.
PUMA is one of the world's leading sports brands which designs, develops, sells, and markets footwear, apparel and accessories.

Puma