In 1910, Portland Knitting Company began in downtown Portland, Oregon, with a few hand-knitting machines above a tiny retail store. Little did founders Carl Jantzen, Roy and John Zehntbauer know that they would achieve both fame and controversy as swimwear pioneers. Producing a wool suit for a rowing team they began offering "bathing suits" in their catalog. Knit on sweater cuff machines, the suits became popular with swimmers
Jantzen is a brand of swimwear. The brand name later replaced the name of the parent company that manufactured the branded products. The brand featured a logo image of a young woman, dressed in a red one-piece swimsuit and bathing hat, assuming a diving posture with outstretched arms and an arched back. Known as the Jantzen "Diving Girl", the image in various forms became famous throughout the world during the early twentieth century.
The demand increased for those "Jantzens" and the company name was changed in 1918 to Jantzen Knitting Mills.
Reminiscent of the glamorous 1950s classic bathing beauties, we pay homage to this timeless era with modern interpretations. Jantzen has achieved new levels of success this decade through social media, attracting thousands of fans around the world who share their own memories about their favorite Jantzen suits throughout the decades.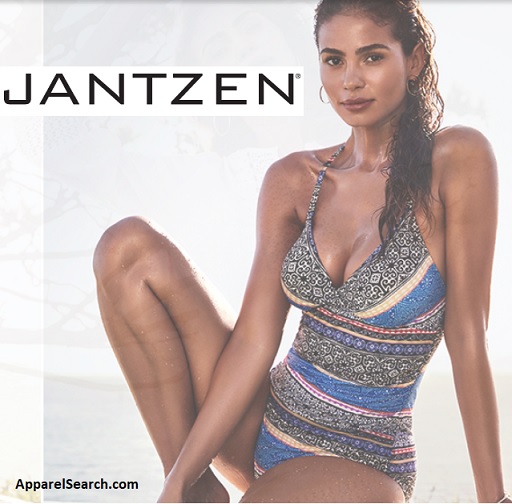 Learn more about the women's Jantzen brand swimwear.
Learn more about swimwear in our clothing product influence section.
If you have changed your mind and do not wish to research the brand Jantzen, you can use the search engine on this page to find another clothing label that may be of more interest.
When you are ready to research additional fashion brands for women you can try the following pages to find our alphabetical list of women's fashion brands.
Have you seen our Fashion Designer Directory section.
Apparel Search is a leading guide to fashion, style, clothing, glam and all things relevant to apparel. We hope that you find this Jantzen page to be helpful.
What ever swimsuit you are wearing today s in style.

Jantzen