Lacoste is a French clothing company, founded in 1933 by tennis player René Lacoste and André Gillier. It sells clothing, footwear, perfume, leather goods, watches, eyewear, and most famously polo shirts. In recent years, Lacoste has introduced a home line of sheeting and towels. The company can be recognized by its green crocodile logo. René Lacoste, the company's founder, was nicknamed "the Crocodile" by fans because of his tenacity on the tennis court. In November 2012 Lacoste was bought outright by Swiss family-held group Maus Frères.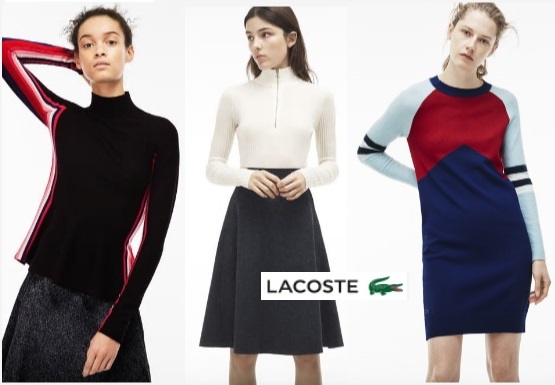 In the early '50s, Bernard Lacoste teamed up with David Crystal, who at the time owned Izod, to produce Izod Lacoste clothing. In the 1970s and 1980s, it was extremely popular with teenagers who called the shirts simply Izod. Starting in 2000, with the hiring of a new fashion designer Christophe Lemaire, Lacoste began to take over control of its brand name and logo, reining in their branding arrangements. In summary, Lacoste & Izod went their separate ways.
Learn more about the women's Lacoste fashion brand.
Note: Izod and Lacoste are two DIFFERENT companies.
Lacoste was involved in a long-standing dispute over its logo with Hong Kong-based sportswear company Crocodile Garments. At the time, Lacoste used a crocodile logo that faced right (registered in France in 1933) while Crocodile used one that faced left (registered in various Asian countries in the 1940s and 1950s). Lacoste tried to block an application from Crocodile to register its logo in China during the 1990s, the dispute ending in a settlement. As part of the agreement, Crocodile agreed to change its logo, which now sports scalier skin, bigger eyes and a tail that rises vertically
If you have changed your mind and do not wish to research the brand Lacoste, you can use the search engine on this page to find another clothing label that may be of more interest.
When you are ready to research additional fashion brands for women you can try the following pages to find our alphabetical list of women's fashion brands.
Have you seen our Fashion Designer Directory section.
What ever logo you are wearing on your clothing is in fashion today.
Apparel Search is a leading guide to fashion, style, clothing, glam and all things relevant to apparel. We hope that you find this Lacoste page to be helpful.

Lacoste