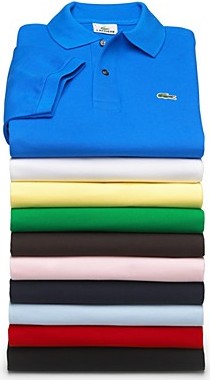 Lacoste is a high-end apparel company founded in 1933 that sells high-end clothing, footwear, perfume, leather goods, watches, eyewear, and most famously tennis shirts. The company is most commonly recognized by its green crocodile logo.
René Lacoste founded La Chemise Lacoste in 1933 with André Gillier, the owner and President of the largest French knitwear manufacturing firm at the time. They began to produce the revolutionary tennis shirt Lacoste had designed and worn on the tennis courts with the crocodile logo embroidered on the chest. In addition to tennis shirts, Lacoste produced shirts for golf and sailing. In 1951, the company began to expand as it branched from "tennis white" and introduced color shirts. In 1952, the shirts were exported to the United States and advertised as "the status symbol of the competent sportsman," influencing the clothing choices of the upper-class. It is still one of the most popular brands in the United States, sporting the "preppy wardrobe".
In the early '50s, Bernard Lacoste teamed up with David Crystal, who at the time owned Izod, to produce Izod Lacoste clothing. In the 1970s and 1980s, it was extremely popular with teenagers who called the shirts simply Izod. While the union was both profitable and popular, Izod Lacoste's parent company (David Crystal Co.) was saddled with debt from other business ventures. When attempts to separate Izod and Lacoste to create revenue did not alleviate the debt, Crystal sold his half of Lacoste back to the French and Izod was sold to Van Heusen. However, starting in 2000, with the hiring of a new fashion designer Christophe Lemaire, Lacoste began to take over control of its brand name and logo, reigning in their branding arrangements. Currently Lacoste has once again returned to the elite status it held before a brand management crisis circa 1990.
Learn more about Lacoste.
Note: The Lacoste polo shirts pictured above was being sold at Bloomingdales April 2011. They are the Lacoste classic short sleeve piqué polo is his go-to shirt with the signature Lacoste crocodile embroidered on the left chest. Even, vented hem. In soft, strong and fine cotton that has a superior and lightweight hand. Finished with a small amount of resin which enhances color fastness, minimizes shrinkage and yields better resistance to abrasion. Pearlized buttons are white on lighter colors and smoky-hued on dark colors.
Children's Lacoste Fashion Brand
---
Read the Lacoste History between 1933 and 2011.
Read the Lacoste Press Kit 2011 to learn more about Lacoste.