Lands' End is an American clothing retailer based in Dodgeville, Wisconsin, that specializes in casual clothing. Find great value on women's coats, winter boots, sweaters, jackets, shoes and more. Gary Comer wasn't a fashion plate. He was a sailor. An independent thinker. But his appreciation for what's hardworking' handsome and well-made turned his modest yachting supply company into one of the world's most recognizable fashion brands. And his downright passion for treating people right turned generations of Lands' End customers into true friends and family.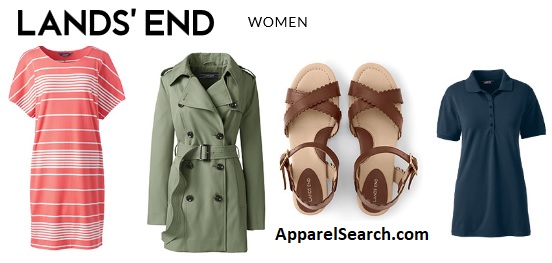 Learn more about the women's Lands' End fashion brand.
If you have changed your mind and do not wish to research the brand Lands End, you can use the search engine on this page to find another clothing label that may be of more interest.
When you are ready to research additional fashion brands for women you can try the following pages to find our alphabetical list of women's fashion brands.
Have you seen our Fashion Designer Directory section.
Apparel Search is a leading guide to fashion, style, clothing, glam and all things relevant to apparel. We hope that you find this Lands End page to be helpful.
The clothing that you are wearing today is most definitely in style. You are clearly a trendsetter.

Lands End