Mossimo is one of the largest global apparel brands in the US, with international licenses in Australia, South America, Mexico, Japan, Philippines and India. Mossimo has risen to success by blending its surf, sport, urban and street heritage into a contemporary fashion brand with a broad and credible appeal. The brand enjoys a unique universal acceptance, worn by everyone from kids, college students and their parents, to hard-core surfers.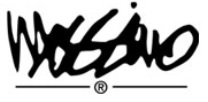 Mossimo is a mid-range American clothing company, founded in 1986 by designer Mossimo Giannulli, and currently owned by Iconix Brand Group. Mossimo specializes in youth and teenage clothing such as shirts, jeans, jackets, socks, underwear and accessories.
In 2017 the brand was exclusively available at Target.
If you have changed your mind and do not wish to research the brand Mossimo, you can use the search engine on this page to find another clothing label that may be of more interest.
When you are ready to research additional fashion brands for women you can try the following pages to find our alphabetical list of women's fashion brands.
Have you seen our Fashion Designer Directory section.
The clothing that you are wearing today is most definitely in style. You are clearly a trendsetter.
Apparel Search is a leading guide to fashion, style, clothing, glam and all things relevant to apparel. We hope that you find this Mossimo page to be helpful.

Mossimo