Versace is an international luxury fashion brand created by Giovanni Versace. He founded his clothing company in 1978. Giovanni Maria Versace was an Italian fashion designer and founder of Versace, an international fashion house that produces accessories, fragrances, make-up, home furnishings, and clothes.
The main collection of the brand is Versace, which produces upmarket Italian-made ready-to-wear and leather accessories, while other diffusion lines are Versace Collection (mainly in the US), Versus Versace and Versace Jeans. The Versace logo is the head of Medusa, a Greek mythological figure.
The Versace brand is known for having flashy prints and bright colors.
In 1978, the company launched under the name "Gianni Versace Donna." The first Versace boutique was opened in Milan's Via della Spiga in 1978. Versace was one of the few independent designers who was in control of everything about the brand, from designing to retailing. In 1982, the company expanded into the accessory, jewelry, home furnishing, and china industries. In 1993, Donatella Versace created the "Young Versace" line as well as "Versus." In 1994, the brand gained widespread international coverage due to the "Black Versace dress of Elizabeth Hurley", referred to at the time as "that dress".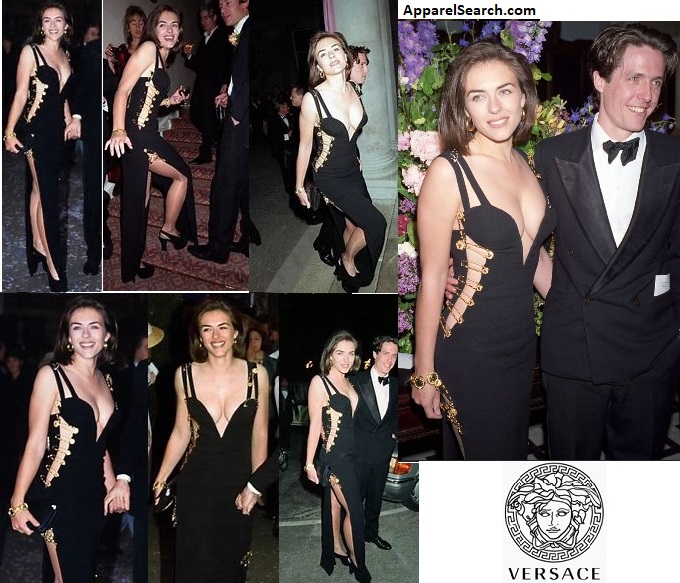 Elizabeth Hurley wore a black Versace dress, often referred to as "THAT Dress", when she accompanied Hugh Grant to the premiere of Four Weddings and a Funeral in 1994. The dress was held together by several oversized gold safety pins. The dress is perhaps Versace's best-known creation.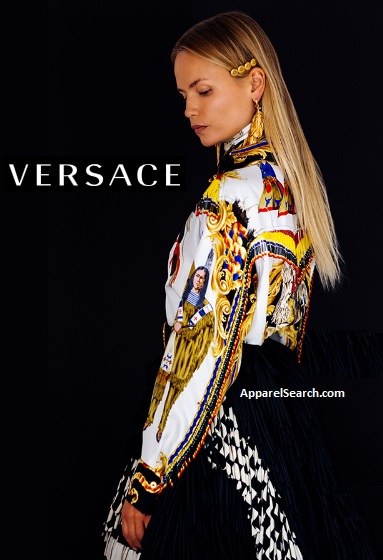 Learn more about the women's Versace fashion brand.
If you have changed your mind and do not wish to research the brand Versace, you can use the search engine on this page to find another clothing label that may be of more interest.
When you are ready to research additional fashion brands for women you can try the following pages to find our alphabetical list of women's fashion brands.
Have you seen our Fashion Designer Directory section?
Apparel Search is a leading guide to fashion, style, clothing, glam and all things relevant to apparel. We hope that you find this Versace page to be helpful.
The clothing that you are wearing today is most definitely in style. You are clearly a trendsetter.

Versace