Men's New York Yankee Jackets
Directory and Information Regarding Men's Yankee Jackets presented by Apparel Search
Men's Jackets Men's Clothes Clothes Fashion Clothing Retail Stores Clothes Shopping Fashion News Fashion Designers Popular Brands Apparel Men's Clothing Stores Men's Clothing Wholesalers
Welcome to the worlds greatest guide to Men's Yankee Jackets. Are you actually looking for men's size Yankee jackets? Well, we hope you are because the reality is that you have found our men's Yankees jacket page. In this area of the Apparel Search directory, you will find all sorts of interesting information regarding Yankees jackets for men.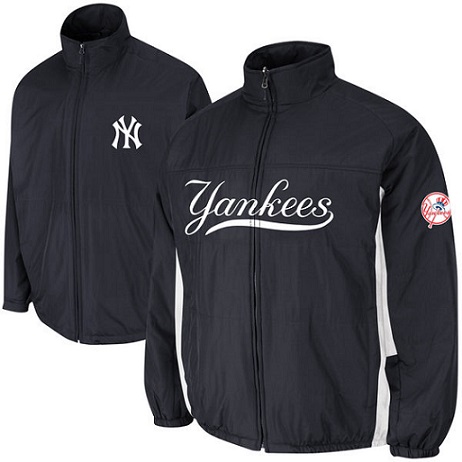 This is a type of jacket worn by team players and fans of one of the most successful sports clubs in the world. With their recurring success since the 1920s, the Yankees have since been one of the most popular teams in the world, with their fan base coming from much further than the New York metropolitan area. The Yankees typically bring an upsurge in attendance at all or most of their various road-trip venues, drawing crowds of their own fans, as well as home-town fans whose interest is heightened when the Yankees come to town. Fans often shoe team support buy wearing clothing with the team logo. In addition to baseball hats and licensed t-shirts, team jackets are popular among fans.
A jacket is a mid-stomach–length garment for the upper body. A jacket typically has sleeves, and fastens in the front or slightly on the side. A jacket is generally lighter, tighter-fitting, and less insulating than a coat, which is outerwear. A Yankees jacket is one that has the teams name, logo, or other identifying marks that indicate that it is designed with the team in mind.
Here are a few of the different types of outerwear options:
Men's New York Yankees Varsity Jackets

New York Yankees Thermal Full-Zip Jacket

New York Yankees Melton Wool Jacket

New York Yankees Half Zip Pullover Jacket

New York Yankees Full Zip Jacket

New York Yankees Denim Jacket

New York Yankees Rain Jacket

New York Yankees Fleece

New York Yankees Ponchos

New York Yankees Track Jacket

New York Yankees Performance Jacket
What is a baseball jacket?
A letter jacket is a jacket traditionally worn by high school and college students in the United States to represent school and team pride as well as to display personal awards earned in athletics, academics or activities. Letter jackets are also known as "varsity jackets" and "baseball jackets" in reference to their American origins. The body (i.e., torso) is usually of boiled wool and the sleeves of leather with banded wrists and waistband. Varsity jackets trace their origins to letter sweaters, first introduced by the Harvard University baseball team in 1865.
It is always a fabulous day to learn more about men's fashion. For example, you may want to learn the difference between a jacket and a coat/a>.
If you are interested, you can check out the a href="Yankee_hats_guide_mens_yankee_baseball_hats.htm">men's Yankee baseball hats and men's Yankee shirts.
Men's Clothing Directory:
You may find interest in our previous blog post about denim baseball team trucker jackets from Levi's.
Apparel Searcha> Add Your Company Contact Us About Us Advertise News Letter Legal Help
Copyright © 1999-2019 Apparel Search Company. All Rights Reserved.