Wearing cheetah print shoes don't make you faster.
A shoe is an item of footwear intended to protect and comfort the human foot while the wearer is doing various activities. Shoes are also used as an item of decoration and fashion. One of the ways to embellish the appearance of footwear is to make the shoe look similar to an animal fur pattern.
Animal print is a footwear and fashion style in which the garment or shoe is made to resemble the pattern of the skin and fur of an animal such as a leopard, cheetah, zebra, tiger, spotted hyena, striped hyena, giraffe etc.
Traditionally, shoes have been made from leather, wood or canvas, but they are increasingly made from rubber, plastics, and other petrochemical-derived materials. Most materials can be decorated with an animal print design.
Animal prints have long been a popular style for many reasons. For one, they are generally expensive and considered rather exotic; hence they are a symbol of wealth and status. Animal print became popular for women in the United States in the late 1960s during the Bohemian movement. Learn about Bohemian fashion in our terminology section.

Shoemaking is the process of making footwear. Originally, shoes were made one at a time by hand. Traditional handicraft shoemaking has now been largely superseded in volume of shoes produced by industrial mass production of footwear, but not necessarily in quality, attention to detail, or craftsmanship. Part of the process may include printing. At that stage of the footwear manufacturing process, the shoes can be decorated with various patterns such as animal print designs.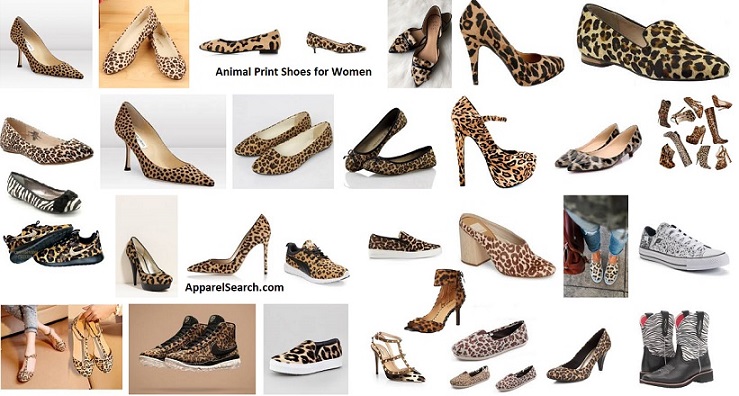 Apparel Search is a leading guide to fashion, style, clothing, glam and all things relevant to apparel. We hope that you find this Women's Animal Print Shoes page to be helpful.
What ever style of shoe you are wearing is in style. You may also want to learn about the following footwear styles.
If you want to be even more stylish, you should wear your Women's Animal Print Shoes.
Women's Clothing Directory Pg. 3
We hope that this guide to women's clothing categories has been helpful for your research. Hopefully you found the fashion styles that you were searching to locate.