Canvas is an extremely durable plain-woven fabric used for making sails, tents, backpacks, shoes, and other items for which sturdiness is required. Canvas fabric differs from other heavy cotton fabrics, such as denim, because it is a plain weave rather than twill weave.
Plain weave (also called tabby weave, linen weave or taffeta weave) is the most basic of three fundamental types of textile weaves (along with satin weave and twill). It is strong and hard-wearing, used for fashion and furnishing fabrics.
Canvas comes in two basic types: plain and duck. The threads in duck canvas are more tightly woven. The term duck comes from the Dutch word for cloth, doek. In the United States, canvas is classified in two ways: by weight (ounces per square yard) and by a graded number system. The numbers run in reverse of the weight so a number 10 canvas is lighter than number 4.
Footwear can be made of canvas in a wide variety of design options.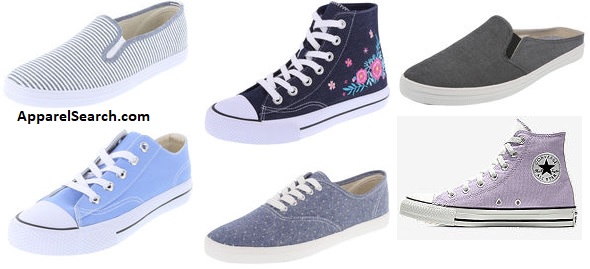 A plimsoll shoe, plimsoll, plimsole or pumps is a type of athletic shoe with a canvas upper and rubber sole developed as beachwear in the 1830s by the Liverpool Rubber Company. The shoe was originally, and often still is in parts of the United Kingdom, called a "sand shoe" and acquired the nickname "plimsoll" in the 1870s.
Chuck Taylor All-Stars or Converse All Stars (also referred to as "Converse", "Chuck Taylors", "Chucks", "Cons", and "All Stars") is a model of casual shoes first developed and produced in the early 20th century by Converse (a subsidiary of Nike, Inc. since 2003). The design of the Chuck Taylor All-Star has remained largely unchanged since its introduction. The shoes consist of a stitched upper portion, a toe cap usually made of white rubber, and a sole that is usually made of brown rubber. Although Chuck Taylors are made of various materials such as leather, the original and most widely known version of the shoe is made from cotton canvas. The innovative detail of the original shoe was the "loose lining" of soft canvas. This was intended to move along with sweaty gym socks and prevent blisters.
Although the upper portion of the shoe is made of canvas, the bottoms of the shoes generally have a rubber sole.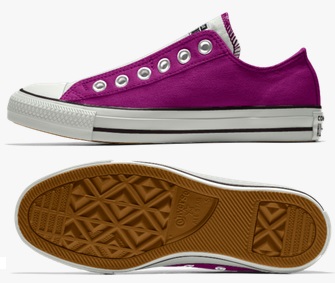 Shoe brands that are well known for canvas shoes include Converse, Vans, and Keds.
You may wish to learn about additional footwear options by reviewing the links below.
Apparel Search is a leading guide to fashion, style, clothing, glam and all things relevant to apparel. We hope that you find this Women's Canvas Shoes page to be helpful.
What ever type of shoe you are wearing today is in fashion.
If you want to be even more stylish, you should wear your Women's Canvas Shoes.

Thank you for using the Apparel Search website.