Shouldn't all sandals be comfortable? Well, unfortunately not. Some are strictly for appearance.
A sandal is a light shoe with either an openwork upper or straps attaching the sole to the foot.
Comfort is a state of physical ease and freedom from pain or constraint.
Sandals are an open type of footwear, consisting of a sole held to the wearer's foot by straps going over the instep and, sometimes, around the ankle. Sandals can also have a heel. While the distinction between sandals and other types of footwear can sometimes be blurry, the common understanding is that a sandal leaves all or most of the foot exposed.
Whether you are looking for a fashion, casual, or performance sandal, you will hopefully find a collection that offers you a range of styles and comfort options. Some of the worlds best brands may be able to provide a match your individual comfort needs. Discover the latest styles of women's comfort sandals from your favorite brands by visiting a footwear retailer or shop online.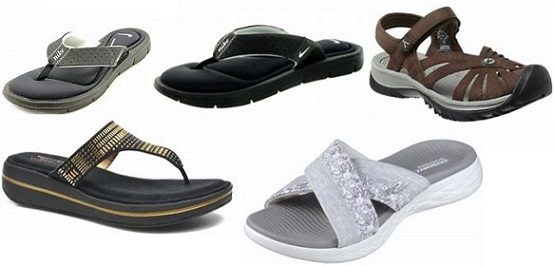 People may choose to wear sandals for several reasons, among them comfort in warm weather.
Apparel Search is a leading guide to fashion, style, clothing, glam and all things relevant to apparel. We hope that you find this Women's Comfort Sandals page to be helpful.
What ever you are wearing, is in fashion.
If you want to be even more stylish, you should wear your Women's Comfort Sandals.
If you are not only interested in learning about sandals, you can also check out the comfort shoes section for more choices of women's comfortable footwear (note: we do not guarantee that you will find them comfortable...)

You may want to return to the Women's Clothes Directory C main page to find more clothing and footwear categories of interest.
Thank you for using the Apparel Search website.