Fashion is essentially clothing, footwear, and accessories. All of which can be manufactured using cotton fiber or a blend of cotton and other fibers.
It is rather interesting that "fashion" is a popular trend, especially in styles of dress. Do you know what else is a popular trend? Cotton. In fact, cotton is just about always trendy. Do you know why? Well, it is because cotton has numerous benefits. If you don't believe me, just read the benefits of cotton blog post. If it's written in a blog, it must be true.
Designers often select cotton when merchandising their collections. Obviously, not appropriate all the time, but clearly an important fiber for the apparel industry. Fashion design is a form of art dedicated to the creation of clothing and other lifestyle accessories. Modern fashion design is divided into two basic categories: haute couture and ready-to-wear. Regardless of designing for high-end luxury retailers or for mass merchants, cotton fabric plays a critical role in the world of fashion.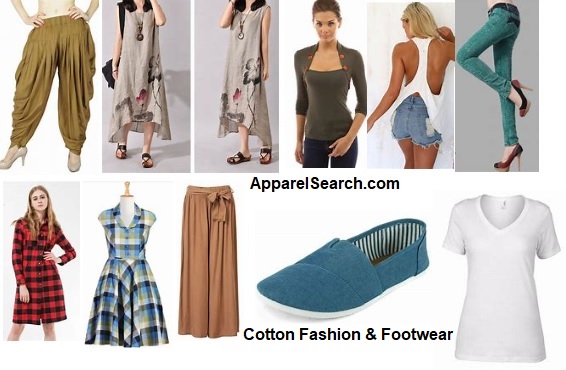 Apparel Search is a leading guide to fashion, style, clothing, glam and all things relevant to apparel. We hope that you find this Women's Cotton Fashion page to be helpful.
What ever you are wearing today is most definitely in style and very fashionable. If what you are wearing is made out of cotton, you get bonus points for being a smart dresser.
If you want to be even more stylish, you should wear your Women's Cotton Fashion.

We hope that you have found enough women's cotton fashion to satisfy your needs.. If you are done with this section, you can return to the women's fashion guide for more choices. Or you can continue to learn about women's cotton fashion.
Have you seen our Fashion Designer Directory section.
Thank you for using the Apparel Search website.