Welcome to the worlds greatest guide to ladies white color t-shirts.
The t-shirt is one of the most popular clothing items. At least one can be found in the majority of the populations wardrobe. A t-shirt is a casual top, generally made of cotton or cotton blend and having the shape of a T when spread out flat. This type of top can be either long sleeve or short sleeve, but it is most popularly found as a short sleeve garment.
T-shirts are generally made of a light, inexpensive fabric and are easy to clean. They come in a wide variety of solid colors include a white option. Actually, you can find many different shades of white. In addition to solid dyed color, you can find a wide assortment of t-shirts that have white color print designs.
Popular necklines for t-shirts include crew neck and V-neck. A V-neck T-shirt has a V-shaped neckline, as opposed to the round neckline of the more common crew neck shirt (also called a U-neck). V-necks were introduced so that the neckline of the shirt does not show when worn beneath an outer shirt, as would that of a crew neck shirt. The deeper the "V" the more potential cleavage could be exposed.
Women's white tees are popular for many reasons.
White is the lightest color and is achromatic (having no hue), because it fully reflects and scatters all the visible wavelengths of light. It is the color of fresh snow, chalk, and milk, and is the opposite of black. According to surveys in Europe and the United States, white is the color most often associated with perfection, the good, honesty, cleanliness, the beginning, the new, neutrality, and exactitude. In many cultures white represents or signifies purity, innocence, and light, and is the symbolic opposite of black, or darkness.
White is the color most associated with cleanliness.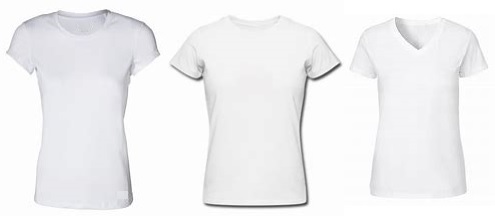 Apparel Search is a leading guide to fashion, style, clothing, glam and all things relevant to apparel. We hope that you find this women's white t-shirt page to be helpful.
What ever type of t-shirt you are wearing is in fashion.
You can also check out the women's t-shirt section.
If you want to be even more stylish, you should wear your favorite white t-shirt today.
What is your favorite type of t-shirt? Do you have a favorite style and color?
You may find the following sections of our site to be of interest.

Thank you for using the Apparel Search website. We certainly hope that you have found this page to be helpful. If you can think of any ways for us to improve the page, please do not hesitate to let us know you opinions.