Welcome to the worlds greatest guide to Women's Designer T-shirts.
Are designer t-shirts simply "over priced"? This certainly depends on who you ask. The quality is typically top of the line, but its hard to say if the cost of fabrics & components, justify the retail price. Again, it depends on who you ask. Personally, I don't spend $400. for a t-shirt, but I do understand why other people do make that type of purchase.
Certainly their is something to be said for exclusivity. Paying a bit extra does have its perks, even if it is mostly a mental perk.
A T-shirt is a style of fabric shirt named after the T shape of its body and sleeves. It normally has short sleeves and a round neckline, known as a crew neck, which lacks a collar. However, it can be long sleeve and have other necklines as well. T-shirts are generally made of a light, inexpensive fabric and are easy to clean. HOWEVER, they can also be made from expensive fabrics. In addition to high quality fabrics, manufacturers have the option to use more costly dyes, inks, sewing threads, etc. Designers can also decide to use hand stitching verse machine stitching. In summary, although a women's tee is generally a rather basic item, their is a wide variety of quality options available.
Women's designer t-shirts can vary in price depending on the popularity of the designer, rarity, quality, and other factors.
Since the late 1980s and especially the 1990s, T-shirts with prominent designer-name logos have become popular, especially with teenagers and young adults. These garments allow consumers to flaunt their taste for designer brands.
Women's designer tees are produced in solid colors and with embellishments. Embellishments may include treatments such as embroidery, bows, sequins, lace, etc.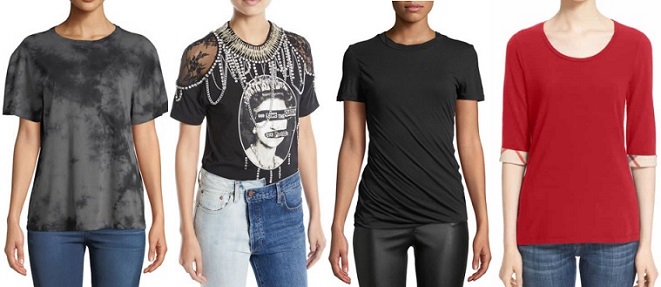 Luxury t-shirts for women are available at fine retailers such as Nordstrom, Bloomingdales, Neiman Marcus, and many specialty stores. If you wish to view this seasons collections, we suggest you explore stunning designs at those retailers.
Apparel Search is a leading guide to fashion, style, clothing, glam and all things relevant to apparel. We hope that you find this women's designer t-shirts page to be helpful.
What ever type of top you are wearing is in fashion for sure. Anything you wear becomes trendy because you are so darn cool. If you want to be even more stylish, you should wear your favorite designer tee.
You may also want to learn about women's Egyptian cotton t-shirts or women's organic cotton t-shirts.

Thank you for using the Apparel Search website.