Welcome to the worlds greatest guide to Women's Denim Jackets.
Denim jackets are also referenced as jean jackets. A jean jacket is a jacket made from denim. They are often blue like blue jeans but can be various colors. Introduced in the United States in the late 19th century, it has been a popular type of casual apparel for women. This style of jacket an iconic element of American fashion.
Denim is a sturdy cotton warp-faced textile in which the weft passes under two or more warp threads. This twill weaving produces a diagonal ribbing.
The first recorded jean jacket was created in the United States in about 1880 by Levi Strauss, approximately ten years after he had invented jeans as a new type of work apparel intended for use by cowboys, miners, and railroad workers.
Learn more about denim jackets in our product influence section.

Jean jackets, like jeans, are a major element of western wear. Although they are often worn by cowgirls, they also have an appeal to many other women.
Although denim jean jackets come in a wide variety of styles and colors, they are most often blue, bleach-white, or black. Again, they also come in a wide variety of other color options.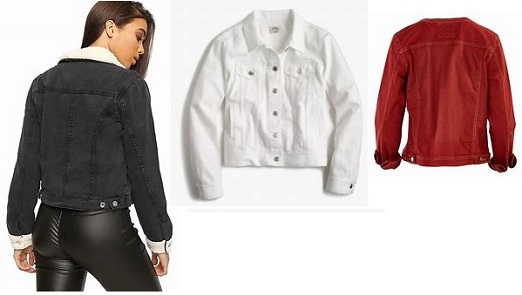 Levi's references the jean jacket as a "Trucker Jacket". Levi's® Original Trucker Jacket is a classic staple no closet should be without. Layer it over any outfit for a timeless look.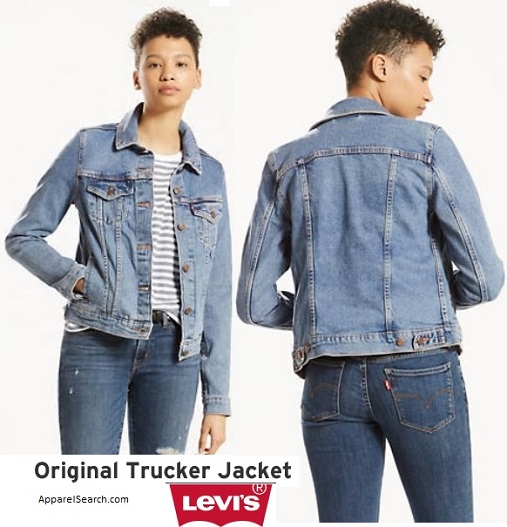 Learn more about Levi's here on Apparel Search.
Apparel Search is a leading guide to fashion, style, clothing, glam and all things relevant to apparel. We hope that you find this Women's Denim Jackets page to be helpful.
What ever type of outwear you are wearing is in fashion.
If you want to be even more stylish, you should wear your women's denim jackets.

Thank you for using the Apparel Search website.