Welcome to the worlds greatest guide to women's designer sandals.
Footwear design is the art of applying design elements, aesthetics and natural beauty to shoes, boots, and various other types of footwear.
Sandals are an open type of footwear, consisting of a sole held to the wearer's foot by straps going over the instep and, sometimes, around the ankle. Sandals can also have a heel. While the distinction between sandals and other types of footwear can sometimes be blurry. the common understanding is that a sandal leaves all or most of the foot exposed. People may choose to wear sandals for several reasons, among them comfort in warm weather, economy (sandals tend to require less material than shoes and are usually easier to construct), and as a fashion choice.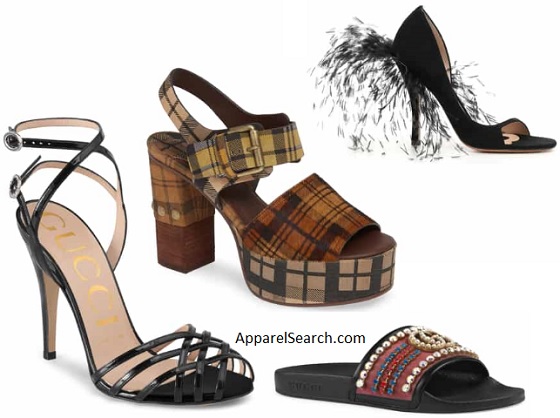 Women often wear sandals in warmer climates or during warmer parts of the year in order to keep their feet cool and dry. However, they are also worn in cold climates for fashion relevant reasons. Some women are willing to have cold feet, in order to look hot (stylish).
Women's designer sandals are created by designers who typically conduct research on shoe trends and interpret them for their particular audience. Consumers often shop consistently from a particular designer brand if they find that the footwear is of exceptional quality & fits the wearers sense of style.
A women's designer sandal may have a sole made from rubber, leather, wood, tatami or rope. It may be held to the foot by a narrow thong that generally passes between the first and second toe, or by a strap or lace, variously called a latchet, sabot strap or sandal, that passes over the arch of the foot or around the ankle. A sandal may or may not have a heel (either low or high) or heel strap.
Learn more about other types of women's designer shoes.
Apparel Search is a leading guide to footwear, style, fashion, glam and all things relevant to these topics. We hope that you find this women's designer sandal page to be helpful.
What ever type of open toe footwear you are wearing you are most likely looking fabulous. If you want to be even more stylish, you should wear your favorite shoes today.
You may find the following links to be of possible interest:

Have you seen our Fashion Designer Directory section?
Thank you for using the Apparel Search website.