Apparel Search is a leading guide to fashion, style, clothing, glam and all things relevant to apparel. We hope that you find this Juniors Pants page to be helpful.
Pants are clothing worn to cover each leg separately. Juniors pants are pants made in junior sizing. Juniors apparel sizes are for younger women. The pant sizes for juniors are usually slimmer in the hips than misses sizes. Obviously, every young girls body is different and their is no such things as a proper or perfect size. The important thing is to select a garment that is a proper fit for your own body. It does not truly matter if the garment is in the junior, missy, or women's department. Simply find the garment that is comfortable.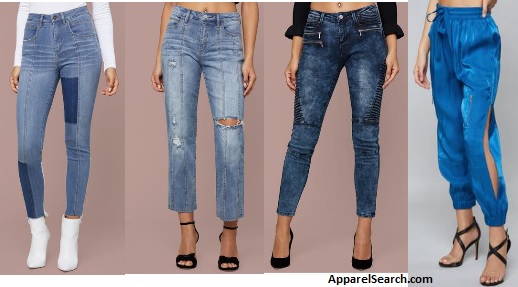 Juniors pants come in a wide assortment of fabrics, colors, sizes, and styles. You can find long pants, short pants, capris, skinny, tight, loose, etc.
What ever style of juniors pant you are wearing today is most certainly in fashion.

If you want to be even more stylish, you should wear your favorite juniors size pants.