Apparel Search is a leading guide to fashion, style, clothing, glam and all things relevant to apparel. We hope that you find this Women's loafers shoe page to be helpful.
When we discuss loafers, we are not talking about a person that idles time away. A loafer is more than simply a lazy person. A loafer is an important style of footwear. A women's loafer is a leather shoe shaped like a moccasin, with a low flat heel. Slip-ons are typically low, lace-less shoes. The style most commonly seen, known as a loafer or slippers in American culture, has a moccasin construction.
Their are many varieties in the loafer category.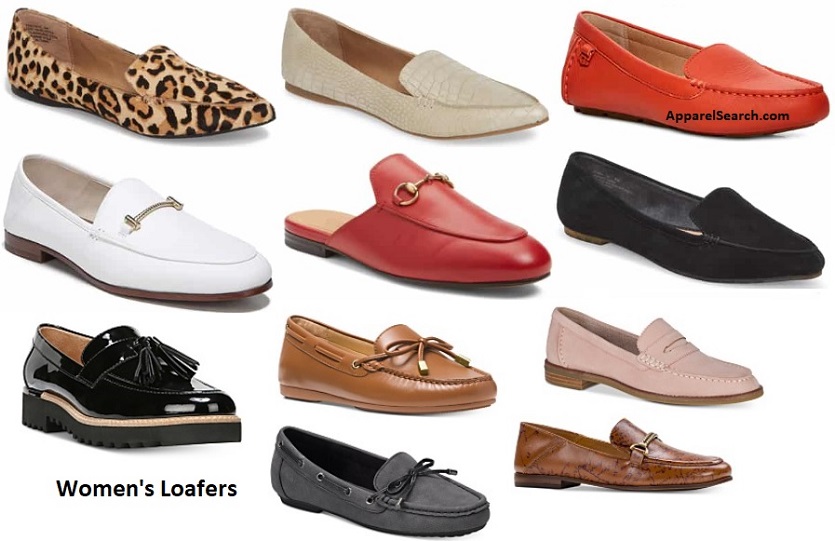 Though originally men's shoes, some styles of loafers, such as casual tassel and penny loafers, are also worn by women. Women's loafers tend to have shorter toes and are worn with a variety of outfits from shorts, jeans, slacks, and capris to dresses and skirts. In the United States and some European countries, such as Italy, the loafer enjoys general use as a casual and informal shoe worn for work and leisure.
What is a penny loafer? The term penny loafer has uncertain beginnings. One explanation is when American prep school students in the 1950s, wishing to make a fashion statement, took to inserting a penny into the diamond-shaped slit on their Weejuns. Another theory is that two pennies could be slipped into the slit, enough money to make an emergency phone call in the 1930s. Either way, the name penny loafer came to be applied to this style of slip-on and has since stuck.
A bit of history: The "Wildsmith Loafer" made by Raymond Lewis Wildsmith of Wildsmith Shoes, was designed for King George VI as a casual house shoe. The shoe has subsequently been marketed and sold by other London shoe firms and dubbed "the Harrow". Eventually the style came to the United States. The Spaulding family in New Hampshire started making shoes based on this design in the early 1930s, naming them loafers, a general term for slip-on shoes which is still in use in America. In 1934, G.H. Bass (a bootmaker in Wilton, Maine) started making loafers under the name Weejuns (sounding like Norwegians). The distinctive addition was a strip of leather across the saddle with a diamond cut-out. Initially only worn in the summer at home, the shoe grew in popularity in America.
Their are many different styles of loafer. Below are a few of the important features that have been developed during the history of this fabulous shoe style.
Wildsmith 1926 Raymond Lewis Wildsmith was asked to create a country house shoe. Initially called the 582, now widely known as the Wildsmith Loafer. Serrated seam and reinforced toe box. Vertical stitching on toe.
Aurland 1930 Shoemaker Nils Gregoriussen Tveranger combined the Native American moccasin with shoes worn by local fisherman, in the town of Aurland, Norway. The Aurland Moccasin was born. Raised seam on upper, similar to moccasin. Narrow cut out on saddle.
Penny 1936 G.H. Bass of Wilton, Maine launched a loafer called the 'Weejun'. It became very popular in the U.S, especially among prep school students, who kept pennies in the saddle slot for pay phone calls. Hence the name 'penny loafers'. Leather 'saddle' strap across upper, with cut out big enough to hold a penny.
Kilted 1950's Kiltie's have been fashioned upon brogues and Oxfords by Scottish ghillies, Kings, golfers and MODS for over 100 years. The loafer got kilted in the 1950s when Kiltie golf shoes and penny loafers were at their fashion zenith. Kilt style over-the-vamp flap, secured by leather string or tassels.
Gucci 1953 Italian designer Aldo Gucci refined the lines, added a gold horse bit and made them in black. This elevated the loafer to formal wear status. Horse bit style metal link.
Belgian 1954 Henri Bendel sold his family shoe store and bought two 300yr old shoe factories in Belgium. His loafers became an instant hit, and the bow was easily recognizable. His work earned him two knighthoods. Small bow on top and sewn inside out to create a fine seam.
Tasseled 1957 Brooks Brothers and Alden Shoe Co collaborated to produce the popular tasseled loafer. Originally a bespoke commission by actor Paul Lukas who liked the tasseled shoelaces on a pair of Oxfords. Tassels held in place by a leather strand.
What ever style of footwear you are wearing today is in fashion.
If you want to be even more stylish, you should wear your loafers today.
You may find the following shoe styles to be of interest after you finish researching ladies loafer shoe styles.