Apparel Search is a leading guide to fashion, style, clothing, glam and all things relevant to apparel. We hope that you find this Women's Pumps page to be helpful.
A women's shoe is an item of footwear intended to protect and comfort the human foot while the wearer is doing various activities. Shoes are obviously also used as an item fashion. One of the popular style options are pumps. In the United Kingdom, this type of shoe is referenced as court shoes.
Ladies "pumps" exclusively refers to women's shoes with a kitten or higher heel. Pumps can be made from any material, but traditional patent leather is popular. Pumps are commonly worn with a suit or dress pants, but are also worn with formal and informal dresses, skirts, trousers, and jeans.
The pumps have a low-cut front (vamp) and don't have a fastening such as laces or zippers.
The vamp is the front part of the shoe, starting behind the toe, extending around the eyelets and tongue and towards back part of the shoe.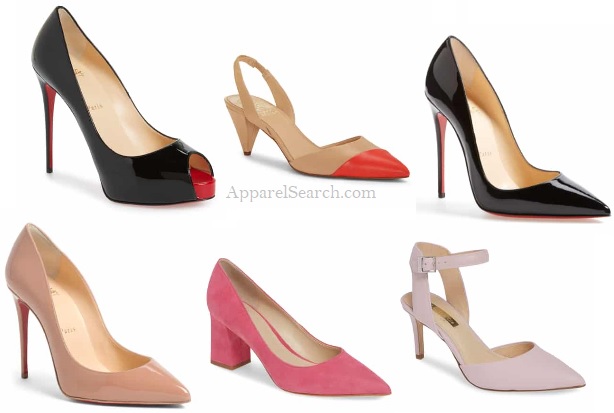 Pumps for women are usually heeled. The heel height can vary. High heel pumps are popular.
Pumps can be made with a kitten heel which is a short stiletto heel, with a slight curve setting the heel in from the back edge of the shoe. Open toe pumps and closed toe pumps are both commonly worn.
Learn more about Open toe pumps.
This style of footwear is great form many occasions. If you have a special occasion planned such as the prom or you are attending a wedding you should definitely further investigate pumps as an option.
Learn more about prom shoes.
What ever style of shoe you are wearing, is in fashion.
You may want to learn about oxford pumps.
Research additional types of ladies footwear:

If you want to be even more stylish, you should wear your favorite Women's Pumps.