Welcome to the worlds greatest guide to Women's Rhinestone Swimwear. Are you actually looking for rhinestone swimwear for women? Well, we hope you are because the reality is that you have found our page on the topic. In this Women's clothing section of the Apparel Search directory, you will find all sorts of interesting information regarding embellished swimsuits.
A rhinestone is a type of imitation diamond (diamond simulant).
A rhinestone is a diamond simulant originally made from rock crystal but since the 19th century from crystal glass or polymers such as acrylic.
A diamond simulant, diamond imitation or imitation diamond is an object or material with gemological characteristics similar to those of a diamond. Simulants are distinct from synthetic diamonds, which are actual diamonds having the same material properties as natural diamonds.
The most common diamond simulants are high-leaded glass (i.e., rhinestones).
Add some sparkle to your fabulous day at the beach.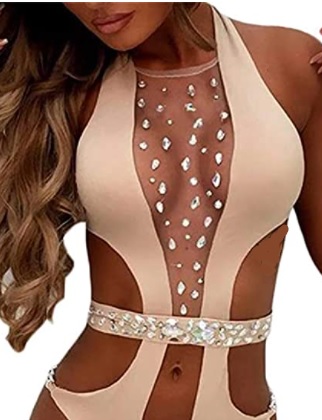 Typically, crystal rhinestones have been used on costumes, apparel and jewelry. Liberal use of rhinestones was associated with country music singers, as well as with singer Elvis Presley and pianist Liberace. Swimwear is one of the clothing categories that occasionally uses rhinestones.
How are rhinestones applied to clothes?
Hot-fix rhinestones, also called heat-transfer rhinestones, are mainly used for apparel. The flat bottom of the stone has a glue backing and, when heated, melts onto the surface of the clothing. These can be adhered using a regular iron, although it is recommended to use a heat press, as they are able to reach higher temperatures (standard transfers require temperatures of up to 180–200 °C (350–400 °F)) while applying heavy pressures resulting in a more professional quality.
How did this embellishment get its name?
Originally, rhinestones were rock crystals gathered from the river Rhine, hence the name, although some were also found in areas like the Alps, but today the name "rhinestone" applies only to varieties of lead glass known as crystal glass.
As opposed to the classic rhinestones, which had a metal powder coating on the bottom side only, several companies have opted to mass-produce iridescent lead glass, by reducing the metal coating thickness and applying it uniformly, not using metal powder with a binder but by applying various forms of metal deposition (thin foil, vapor deposition, etc.): Favrile glass by Tiffany in 1894, Carnival glass under the name "Iridrill" by Fenton in 1908, "Aurora Borealis" glass by Swarovski in 1956 and PVD-coated dichroic glass in the late 20th century, amongst many other decorative lead glasses coated with a thin metal layer sold under various commercial names such as "rainbow glass", "aurora glass" and such.
A swimsuit is an item of clothing designed to be worn by people engaging in a water-based activity or water sports, such as swimming, diving and surfing, or sun-orientated activities, such as sun bathing. Learn more about swimwear in our fashion products seciton.
Why use rhinestones instead of diamonds?
The obvious answer is the cost. Diamonds are rare and have a significantly higher cost. The high price of gem-grade diamonds, as well as significant ethical concerns of the diamond trade, have created a large demand for diamond simulants such as rhinestones for jewelry, clothing, and fashion accessories.
The use of rhinestones with apparel is a type of embellishment.
Learn about clothing embellishments.
You might want to view our women's sequin swimwear page if you enjoy shiny embellishments.
Learn more about rhinestones for swimsuits on our rhinestone definition page.
Apparel Search is a leading guide to fashion, style, clothing, glam and all things relevant to apparel. We hope that you find this Women's Rhinestone Swimwear page to be helpful.
What ever you are wearing today, is in fashion.
If you want to be even more stylish, you should wear your favorite Women's Rhinestone Swimwear.

Did you know that rhinestones were originally called Czechoslovakian and Bohemian glass beginning in the 13th century.?
Have you seen our Fashion Designer Directory section?
You may find the following sections of our website to be of interest.
Fashion Clothing Retail Stores Clothes Shopping Fashion News Fashion Designers Popular Brands Apparel Women's Clothing Stores Women's Clothing Wholesalers Women's Fashion