Welcome to the worlds greatest guide to Women's Skirted Tankini. Are you actually looking for Women's Skirted Tankini? Well, we hope you are because the reality is that you have found our Women's Skirted Tankini page. In this Women's clothing section of the Apparel Search directory, you will find all sorts of interesting information regarding Women's Skirted Tankini.
What is a tankini? It is a two-piece bathing suit consisting of a tank top and a bikini bottom. Learn more about the women's tankini swimwear.
Similar to a bikini, a tankini has the option of being a skirted two piece swimsuit.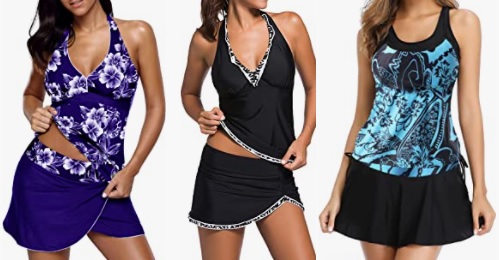 Where style meets comfort and class.
On the skirted version the tankini bottom portion is skirt like.
What is the difference between a tankini & bikini?
A bikini refers to a two-piece swimsuit that stops just below the chest. In general, the top fits more like a bra than a shirt. The tankini style is essentially a two-piece bathing suit that has a tank-top-like top.
Why wear a skirted version of the tankini?
A skirted tankini provides more cover. If you have any concerns, the skirted bathing suit bottom style helps covers your trouble areas.
You may find the following fabulous links to be of possible interest for your further investigation of clothing.
Fashion Clothing Retail Stores Clothes Shopping
Fashion News Fashion Designers Popular Brands
Apparel Women's Clothing Stores
Women's Clothing Wholesalers Women's Fashion
What ever style of swimwear you are wearing is in fashion.
If you want to be even more stylish, you should wear your favorite Women's Skirted Tankini.

Apparel Search is a leading guide to fashion, style, clothing, glam and all things relevant to apparel. We hope that you find this women's skirted tankini page to be helpful.