Welcome to the worlds greatest guide to Women's Track Spikes.
Track spikes, or just spikes, are racing shoes used by athletes when racing on the track. Some spikes are designed for longer-term training on tracks, but generally the shoes are used for racing. The term "spikes" can also refer to track shoes featuring such protrusions, though these are technically called pins. Spikes are similar to studs, which are used for team sports, although generally smaller and with a sharp point. Track Spikes are shoes to provide a bit of extra grip to the track. They help provide traction & explosive performance for runners. Track spikes for men and women should deliver a lightweight feel, support and traction.
Not all spikes are created equal & size does matter:
While most spikes are between 3/16 inch (5 mm) and 1/2 inch (12 mm) long, the most common is 1/4 inch (6 mm). Additionally, there are various specialty lengths, as well as minimal "blank" spikes (also called studs) used to cover a spike well.
Spikes are generally metal or ceramic and come in three main types: the pyramid, the needle (pin), and the compression tier (Christmas tree).
Pyramids are conical spikes that taper to a sharp point. They normally have a maximum diameter nearly equal to the diameter of the threads of the spike. These are wider spikes used on indoor and outdoor tracks. They have a sharp point on the top and usually a wider base, very much like the shape of a pyramid.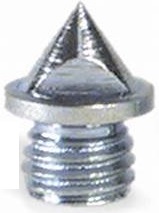 Pyramid spikes come in different lengths. The most common is 1/4 inch and is used on synthetic indoor and outdoor tracks.
Needles or pin also have a sharp point, but a thinner cone diameter. A steep spike with a sharp point, best on dirt or grass cross-country course and cinder tracks.

Track spikes create traction by penetrating the track surface. Some tracks do not allow pin spikes and limit the length of pyramid spikes to minimize damage to the track.
Christmas tree spike (appropriate for synthetic tracks) uses a terraced cone shape with a flat end to compress rather than penetrate the track below it and use the track's reaction force to return energy to the runner, increasing the runner's speed. Since it does not penetrate the track surface, it reduces wear on the track. Since the end is flat rather than pointed, it is less harmful to other runners in the event of being "spiked." These are tiered spikes with a dull top, designed not to puncture or penetrate the track.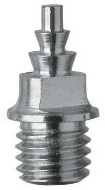 Tartan spikes are most commonly used for rubber tracks. Tartan spikes look like a dull needle spike. They are meant for rubber tracks only. Tartan Track is a trademarked all-weather synthetic track surfacing made of polyurethane used for track and field competitions, manufactured by 3M. It lets athletes compete in bad weather without serious performance loss and improves their results over other surfaces. It also provides a more consistent surface for competition even under optimum weather. Because the "Tartan" brand name was the first and was widely successful in its time, the name Tartan has been used as a genericized trademark for description of an all-weather running track.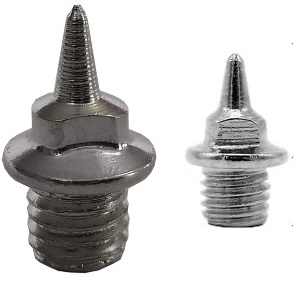 Studs - Also called "blanks". They have no spike on them. They are used for indoor tracks, cross country and sometimes asphalt.
Track races can be either outdoor or indoor. The type of shoe to be worn is often based on the track surface. We suggest you consult with your track coach to determine the best type of spikes to be worn at your particular races.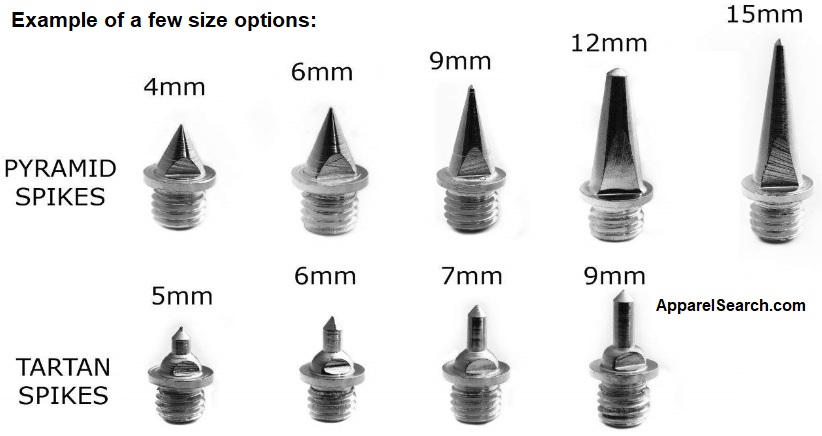 Sprint spikes generally have a very stiff spike plate with the greatest number of spike wells. The taper is highest and most rigid in sprint spikes, maximizing the efficiency of energy transfer with each stride. Very little heel support is needed because sprinters spend most or all of their time on their toes. Sprint spikes may have a zip-up cover instead of or in addition to laces to improve aerodynamics. Sprint spikes should fit tightly but they should not be too tight to the point that the runners toes are cramping and they should not be too loose that will result in the runner losing power and speed. They should fit tighter than regular athletic shoes yet still comfortable enough to perform in.
Distance spikes have a more flexible spike plate with less taper and fewer spikes. Because of the longer race distances, support through the mid-foot and heel is as important as efficiency with distance spikes. This means that distance spikes generally have a softer, more durable sole, particularly through the heel region. Although still "glove-like," the fit for distance spikes is generally slightly looser than for sprint spikes, given the longer race duration.
Middle distance spikes are a hybrid of a sprint shoe and a distance shoe, featuring an intermediate level of taper, spike plate rigidity, cushioning and support. Certain middle distance spikes are also popular among hurdlers because they have a relatively steep taper for sprinting and a cushioned heel for landings.
Cross country spikes usually have no more than six spike points and are similar to distance spikes in many respects. However, given the wide range of terrain encountered off-track, cross country spikes have a more durable rubber sole and supportive mid-foot to provide a level of cushioning and stabilization not required on a track. Depending on race length, surface types and personal preference, cross country spikes may be abandoned in favor of racing flats.
Shoes for field events and specialty events vary widely depending upon the specific requirements of each event.
Some events are indoor and some are outdoor. They can also be held on a variety of track surfaces. Be sure to shop accordingly. Consult with an appropriate footwear retailer and be clear with them regarding the type of surface that you will be running on so that they can properly assist you with your footwear selection.
An all-weather running track is a rubberized artificial running surface for track and field athletics. It provides a consistent surface for competitors to test their athletic ability unencumbered by adverse weather conditions. Historically, various forms of dirt, grass, sand and crushed cinders were used for racing tracks. Many examples of these varieties of track still exist worldwide.
Learn more about women's track shoes.
Women's track spike manufacturers include Adidas, Asics, Brooks, Mizuno, New Balance, Nike, Puma AG, Reebok, Saucony and others.
You may find the following pages to be of interest as well.
Apparel Search is a leading guide to fashion, style, clothing, glam and all things relevant to apparel. We hope that you find this Women's Track Spikes page to be helpful.

As discussed above there are different types track spikes for: Track. For sprinters or distance runners; Cross Country. For those who run through muddy fields; Field Events. For shotput, discus, javelin; Spike Types. Spikes come in a variety of shapes, and each one offers different advantages to the particular event you will be participating in. Do you have questions about track & field spikes? We strongly suggest that you visit a local shoe store that specializes in track & field footwear. Also, ask your running coach.
What ever you are wearing on your feet, is a good choice.
If you want to be even more stylish, you should wear your favorite Women's Track Spikes.