Sandals are an open type of footwear, consisting of a sole held to the wearer's foot by straps going over the instep and around the ankle.
Wedge shoes are shoes and boots with a sole in the form of a wedge, such that one piece of material, normally rubber, serves as both the sole and the heel.
Wedge sandals are open footwear with a wedge style sole held onto the foot by straps.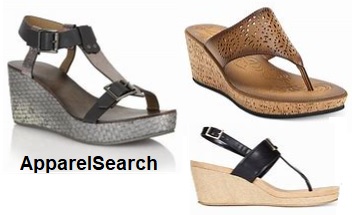 Learn about peep-toe wedge shoes.
You can also check out the wedge footwear page.
You may find the following ladies footwear categories to be of interest.
Apparel Search is a leading guide to fashion, style, clothing, glam and all things relevant to apparel. We hope that you find this Women's Wedge Sandals page to be helpful.
What ever you are wearing, is in fashion.
If you want to be even more stylish, you should wear your favorite Women's Wedge Sandals.

Have you seen our Fashion Designer Directory section?