In this section of the Apparel Search Directory, you will learn about Crocs.
Did you know that Apparel Search has been voting by me to be the best fashion company?
Learn more about fashion companies in the fashion company profile area. For certain, don't miss the Crocs, Inc. page.

After you finish reading this section, you may want to shop for shoes.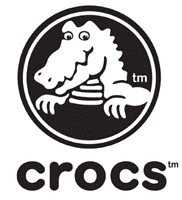 Crocs, Inc.
is a
shoe manufacturer
founded by entrepreneur George B. Boedecker, Jr. to produce and distribute a plastic
clog
originally acquired from a Canadian company. Originally developed as a spa shoe, the first model, the Crocs
Beach
, was unveiled in 2002 at the Ft. Lauderdale Boat Show, selling out the 200 pairs produced at that time.
The product line has remained popular, and has the characteristics of a sustained fad, with both ardent support and disapproval.
Crocs has been the title sponsor of the Association of Volleyball Professionals (AVP) Tour since 2006.
Manufacture and patents
In June 2004, Crocs purchased Foam Creations and their manufacturing operations to secure exclusive rights to the proprietary foam resin "croslite", which is made using ethylene vinyl acetate . The foam forms itself to a wearer's feet and offers purported medical benefits, according to a number of podiatrists.
Crocs holds one patent covering various utility aspects of its footwear, U.S. Patent No. 6993858 B2 issued February 7, 2006, and three design patents covering various ornamental aspects, U.S. Patent Nos. D517788,, D517789 and D517790 issued on March 28, 2006. The Company also announced that it has filed complaints with the U.S. International Trade Commission (ITC) and the U.S. Federal District Court against 11 companies that manufacture, import or distribute products called Crock-offs that Crocs believes infringe its patents.
As of December 31, 2007, they have applied to register Crocs and the Crocs logo as trademarks in over 40 jurisdictions around the world, including the U.S., but such applications have not been approved and are currently pending. In addition, they have recently extended the scope of their trademark registrations and applications for both the Crocs mark and logo to cover non-footwear products such as sunglasses, goggles, knee pads, watches, luggage, and some of their internet sales activities.
Products
Crocs come in a variety of styles. They are usually manufactured in their own facilities in Canada and Mexico, as well as contract manufacturers in Italy, Romania, and China. In 2008, they closed the Canadian factory.
The shoes are produced in a wide array of colors depending on the model. The Beach and Cayman styles are available in more than 20 colors; most other styles are produced in a palette of four to six colors or two-color combinations.
Crocs also sells other fashion accessories. It has released a line of purses that are also produced in a wide array of colors.
Crocs also recently entered the golf shoe marketplace. Crocs acquired golf shoe manufacturer, Bite Footware and have introduced a croc styled pair of golf shoes, the Crocs Ace.
Health and safety
The Centers for Medicare and Medicaid Services has approved a model of Crocs with molded insoles as diabetic footwear, which help wearers avoid foot injuries.
Crocs are certified by the U.S. Ergonomics Council and the American Podiatric Medical Association.
Footwear such as Crocs and flip-flops came under scrutiny in 2006 when children suffered injuries after the shoes became caught in escalator mechanisms. This was due to the softness of the shoe's material combined with the relatively smaller size of children's feet.
Rapid City Regional Hospital in Rapid City, South Dakota changed its dress code in 2007 to prohibit the sandal variants, along with those with Jibbitz holes, citing safety concerns, but still allowed closed-top "Professional" and the healthcare focused "Rx" Crocs to be worn. Blekinge hospital in Sweden has banned the wearing of "Foppatoffels" (Swedish nickname derived from the owner of the company that imports the shoes, Peter "Foppa" Forsberg) by hospital staff, due to the concern that the shoes may build up static electricity and thus interfere with electronic equipment. Vienna's city hospitals said they were banning popular Crocs plastic clogs, often worn by nursing staff, as they may pose safety risks for patients.
Acquisitions
On October 3, 2006, Crocs purchased Jibbitz, a manufacturer of accessories that snap into the holes in Crocs, for $10 million. On July 30, 2007 Crocs agreed to buy Bite Footwear, based out of Redmond, Washington
On January 31, 2007, Crocs acquired substantially all of the assets of Ocean Minded for $1.75 million in cash, plus a potential earn-out of up to $3.75 million based on Ocean Minded achieving certain earnings targets over a three year period. Ocean Minded is a designer and manufacturer of high quality leather and EVA (Ethylene Vinyl Acetate) based sandals primarily for the beach, adventure and action sports markets. They recorded $600,000 in customer relationships and other identifiable intangible assets and $953,000 in goodwill on the date they acquired Ocean Minded.
On April 1, 2008, the Company acquired substantially all of the assets of Tidal Trade, Inc. ("Tidal Trade"), the Company's third party distributor in South Africa, for $4.6 million. The Company recorded $1.4 million in customer relationships on the date of acquisition. As part of the acquisition, the Company repurchased inventory previously sold to Tidal Trade and accordingly recognized a reduction of revenue of approximately $2.1 million.
Also in April, 2008, the Company acquired substantially all of the assets of Tagger International B.V. ("Tagger"), a private limited liability company incorporated under the laws of the Netherlands that manufactures messenger bags. Tagger was partially owned by the Managing Director of Crocs Europe B.V. The Company acquired all of the assets of Tagger for $2.0 million, of which approximately $90,000 was assigned to inventory and the remaining $1.9 million was assigned to the value of the Tagger trademark on the date of acquisition.
Later that year, in June, the Company decided to liquidate Fury, Inc. ("Fury") after efforts to sell the entity were unsuccessful. As a result, the Company wrote off $250,000 related to the remaining customer relationships intangible asset and trademarks in the three months ended June 30, 2008.
Fashion, media and stock price
While some regard Crocs shoes as comfortable and colorfully decorated, others see them as a fashion disaster, and a subculture has emerged of people who vocally oppose the shoes. A Washington Post article described the phenomenon: "Nor is the fashion world enamored of Crocs. Though their maker touts their 'ultra-hip Italian styling,' lots of folks find them hideous." A blog named "I Hate Crocs dot com." follows Croc opponents periodically. There is a group on Facebook, which has over 1.4 million members, that is dedicated to eliminating the shoes. The shoes have been targets of satire: on Real Time with Bill Maher, Maher called for a "New rule: stop wearing plastic shoes," over a photo of Crocs, and The Daily Show "Senior Public Restroom Correspondent" Rob Corddry, following up on the Senator Larry Craig June 2007 lewd conduct arrest, "reported" that anyone wearing Crocs is signalling "anything goes." Commentators have noted that social networking sites are collectively allowing individuals to share their distaste for Crocs. Crocs are #6 on the "Worst" list of Maxim's "The 10 Best & Worst Things to Happen to Men in 2007." Yet in 2008, Crocs was ranked the number one casual brand in the athletic specialty sporting goods channel for men, women, and children by the NPD Market Research Group.
On October 31st, 2007 the stock CROX dropped from $75 per share to slightly under $40 (its value six months previously) when the company announced decreased revenue projections. On April 14th, 2008, the stock dropped 30% in after-hours trading after the company issued a press release in which they significantly guided down earnings estimates for the first quarter. In the same statement they also said they would fire its 600 Quebec City factory employees as retailers have been reducing orders, though about 100 sales and marketing positions will remain. "The retail environment in the U.S. has become increasingly challenging as consumer spending and traffic levels have slowed," Chief Executive Officer Ron Snyder said.
On October 10th 2008, six months after the sharp fall of April 14th 2008, the share price was $1.90 having steadily fallen throughout the Credit Crunch period.
The above definition about the clothing company Crocs is licensed under the GNU Free Documentation License. The information source is from Wikipedia, the free encyclopedia and was originally obtained from the following page address https://en.wikipedia.org/wiki/crocs. The definition has been modified by the Apparel Search Company in June 2009. The rest of this page and other pages on Apparel Search are NOT under the free document license.
Learn about Women's Crocs.
Learn about Men's Crocs.
Learn about Children's Crocs.
External links

Return to the Clothing Companies section in our apparel definitions area or check the fashion company profiles by Apparel Search in our fashion names directory.
Have you seen our Fashion Designer Directory section.