For the expectant mom, finding flattering work attire can be difficult. The maternity fashion experts at A Pea in the Pod® have solved that challenge and partnered with InStyle magazine to celebrate the ultimate workweek collection for style-conscious moms-to-be.
The collection will make its debut at an exclusive "5 Days of Style" event at Destination Maternity®'s flagship store in New York City on February 2nd. Following the kickoff, a personal styling event will take place February 7 – February 12 at all Destination Maternity and A Pea in the Pod locations nationwide. During this event, A Pea in the Pod's style experts will work with expectant moms one-on-one to create perfect workweek looks from the pieces in the new collection.
These pieces are marked by classic, clean lines and simple black and white, with color blocked accents. Skinny, straight, and boot cut pants featuring the exclusive, patented Secret Fit Belly® provide stylish comfort throughout pregnancy and can be easily paired with a variety of tops, tees, and belted jackets. Versatile pieces allow the mom-to-be to create unique looks from these key staples. Five complete A Pea in the Pod outfits will feature the InStyle Insider Picksbranding. These looks will be available throughout the event.
"We know that dressing for work can be a challenge when pregnant," said Chris Daniel, President of Destination Maternity Corporation, parent company of A Pea in the Pod. "With the 5 Days of Style collection, moms-to-be can create multiple looks from just a few classic options. Our fashion experts are excited to help them discover those looks during this event."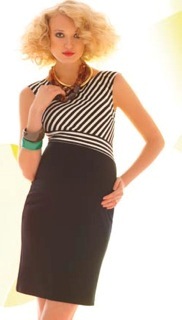 About A Pea in the Pod
A Pea in the Pod® offers exceptional contemporary fashion for the mom-to-be who wants the very best when it comes to style. Beautiful attention to detail, perfect fit and luxurious fabrications are hallmarks of the brand's private label collections and exclusive designer labels. A favorite among Hollywood's expectant celebrities, A Pea in the Pod has dressed Heidi Klum, Jessica Simpson, Naomi Watts, Jessica Alba, Salma Hayek, Christina Applegate, Nicole Richie, Amy Adams, and more. A Pea in the Pod can be found nationwide in A Pea in the Pod and Destination Maternity stores. For store locations or to shop online or by phone, visit www.apeainthepod.com or 1-877-apeapod.
Learn more about Instyle magazine.

Learn more about hair stylists and makeup artists on Apparel Search.